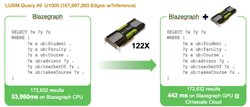 "Blazegraph has taken an innovative approach, leveraging GPU-accelerated graph analytics to address the challenges organizations face when trying to derive value out of continually growing data sets," said Mike LaPan
San Jose, CA (PRWEB) April 05, 2016
Blazegraph, creator of the industry's first GPU-accelerated high-performance database for large graphs, is partnering with Cirrascale Corporation® to make GPU-accelerated graph and machine learning applications more accessible in the market. Blazegraph announced today at the GPU Technology Conference (Booth 206) that it is the first independent software vendor (ISV) to provide a ready-to-run solution on Cirrascale cloud-based GPU-as-a-Service platform. Using Blazegraph Database with Cirrascale's service offering, users can accelerate their RDF and SPARQL graph database queries by 100x without any code changes to their application.
"We are honored to be the first ISV to partner with Cirrascale and enable users to test drive our GPU-accelerated graph database in the cloud," said Brad Bebee, Blazegraph's CEO. "Together Blazegraph and Cirrascale are delivering the tools researchers and data scientists need to quickly and flexibly deploy graph and machine learning applications."
Cirrascale, a premier developer of blade and rackmount solutions enabling GPU-driven deep learning infrastructure, recently introduced its cloud platform, which is available with dedicated 4, 8 or 16 GPUs as a bare metal offering, peering all GPUs together on a single root complex. Configurations of the cloud service support the latest GPU accelerators from NVIDIA, such as the NVIDIA Tesla M40 GPU Accelerators, Tesla K80 Dual-GPU Accelerators and GeForce TITAN X GPUs.
Blazegraph Database is an open source high-performance graph database that features robust, scalable and enterprise-class storage with online backup, high-availability and scale-out. It is capable of supporting up to 50 billion edges on a single machine, and can achieve graph application acceleration of between 10x-1,000x, with a graph traversal rate of 32 billion traversed edges per second (GTEPs). By leveraging the power of GPUs, Blazegraph Database enables GPU acceleration using existing high-level graph APIs for SPARQL and RDF, as well as the Tinkerpop stack. This enables the power of GPU acceleration without code changes or low-level programming.
Early testing on Cirrascale Cloud has shown speed increases of more than 100x using Blazegraph GPU without query changes.
"Blazegraph has taken an innovative approach, leveraging GPU-accelerated graph analytics to address the challenges organizations face when trying to derive value out of continually growing data sets," said Mike LaPan, director of Marketing and Cloud Services at Cirrascale. "We are excited to work with Blazegraph, and offer its graph database solution in conjunction with our cloud platform, so users can experience the power of GPUs in their research and data analysis."
Blazegraph's CEO Brad Bebee and Cirrascale Corporation's Chief Executive and Technical Officer Dave Driggers will discuss the Blazegraph GPU cloud offering on Cirrascale and will demonstrate how to quickly deploy it in the cloud during session S6395 at the GPU Technology Conference on Wednesday, April 6, 2016 at 4 p.m. PDT in Room 210F. In addition, graph benchmarks on cloud systems will be presented during the session.
For more information, visit http://cloud.cirrascale.com.
About Blazegraph
Formerly known as SYSTAP, LLC, Blazegraph is a provider of highly scalable software for solving complex graph and machine learning algorithms. Founded in 2006, the company is the creator of Blazegraph DB, an ultra-high performance graph database supporting up to 50 billion edges on a single machine. Blazegraph GPU and Blazegraph DASL are its disruptive new technologies using GPUs to enable extreme scaling that is thousands of times faster and 40 times more affordable than CPU-based solutions. Fortune 500 companies and government agencies – including DARPA, EMC, Wikimedia Foundation and Yahoo7 – rely on Blazegraph for graphs at scale because, in graphs, size matters. For more information, visit http://www.blazegraph.com.
About Cirrascale Corporation
Cirrascale Corporation is a premier developer of GPU-driven cloud infrastructure for mobile and Internet applications. Cirrascale leverages its patented Vertical Cooling Technology and proprietary PCIe switch riser technology to provide the industry's densest rackmount and blade-based peered multi-GPU platforms. The company sells hardware solutions to large-scale infrastructure operators, hosting and cloud service providers, Biotech, and HPC users. Cirrascale also licenses its award winning technology to partners globally. To learn more about Cirrascale and its unique multi-GPU infrastructure solutions, please visit http://www.cirrascale.com or call (888) 942-3800.