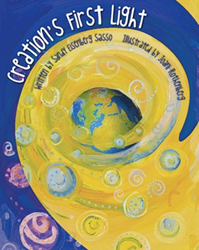 Children are interested in the big issues that faith addresses. We owe it to them to respect their ability to engage those questions
INDIANAPOLIS (PRWEB) April 05, 2016
Jewish legend tells of the light on the first day of creation that was different from all the other lights. Through it, you could see the whole world. Most believe that "the light" was passed down through the generation, but some imagine that individuals have lost "the light." Have we?
When author Sandy Sasso looked into the innocent eyes of her newborn grandson, she was certain that she had found "the light". Sasso reminds us that "the light" of the Jewish legend is always with us, but sometimes we need to look more carefully to find it.
"Even when it seems that darkness is all around us, we can find a spark of the light inside us," Sasso said.
In "Creation's First Light", Sasso honors the religious imagination of children and offers an artistic way of looking at the creation of the world. Recognizing the power of the Genesis story, Sasso tells the legend of the light as a way of opening up conversations between parents, grandparents and their children.
"Children are interested in the big issues that faith addresses. We owe it to them to respect their ability to engage those questions," Sasso said.
By reading "Creation's First Light," individuals will be captivated by the beautiful images and the storyline reflecting an ancient Jewish legend. They will be surprised to learn of the simple places where the divine light still shines.
For more information, visit http://www.creationsfirstlight.com
"Creation's First Light"
By: Sandy Sasso
ISBN:978-1-934922-94-1
Available in softcover, hardcover, e-book
Available on Amazon, Barnes & Noble and IBJ Book Publishing
About the author
Starting in 1990, Sandy Sasso has been publishing children's books and has received awards including a National Jewish Book Award, 2005 Sugarman Family Children's Book, 2006 Best Books of Indiana Awards, and multiple reviews in Publishers Weekly. Sasso is also highly involved in the Jewish community, as she was the second woman in the United States to be an ordained rabbi. Sasso currently lives in Indianapolis with her husband, Dennis, and travels nationally and internationally speaking on a variety of topics.
**FOR IMMEDIATE RELEASE**
For review copies or interview requests, contact:
Katie Wenclewicz
317.602.7137
kwenclewicz(at)bohlsengroup(dot)com