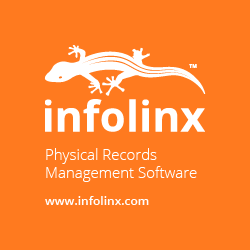 Kensington, MD (PRWEB) May 17, 2016
Infolinx System Solutions™, a leading provider of enterprise physical records management software, announced the upgrade from version 2.3 to 3.4 of Infolinx WEB by Montgomery County Clerk of Courts in Pennsylvania. An Infolinx client since 2008, this latest upgrade supports more than 350 users within 70 departments throughout the county. In addition, their current application tracks over 1.8 million boxes, files and microfilm, all classified within a retention schedule of nearly 800 individual record series.
In addition to deepened integrations with solutions such as Microsoft SharePoint®, Laserfiche® Records Manager, Kofax® Capture, Iron Mountain Connect™, and oneilBridge™, the Infolinx WEB 3.4 application boasts a browser agnostic application interface, expanded records request capability, improved reporting functionality, and an extended security model.
About Infolinx®
Infolinx™ provides DoD5015.02 certified physical records management solutions on-premises or via the cloud. Departmental to enterprise solution functionality includes integrations with Microsoft® SharePoint®, Laserfiche RM, O'Neil's oneilBridge™, Iron Mountain's Connect™, and an industry-leading feature set including advanced retention schedule and disposition management with integrated legal holds and citation reference, space management with billing component, robust searching, online requesting and transferring, permanent audit history, robust reporting, e-mail workflow notifications, and integrated RFID technology. Infolinx Systems Demo.