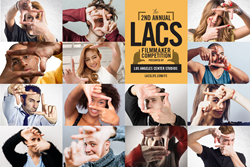 We're excited to host this contest again. Last year's winning film, Trichster, was touching and inspirational. The fans that attended the screening lent to a lively atmosphere and very interesting Q & A session with Trichster Creator and Director, Jillian
(PRWEB) April 07, 2016
The Los Angeles Center Studios Young Filmmaker Competition returns for its second year. The competition invites emerging filmmakers to submit their film for a chance to win a private screening event for their film. Submissions for the competition will be accepted from April 11th to May 11th, and public voting for the films will run May 12th through May 20th.
The winner will have the opportunity to debut their film in the state-of-the-art 350-seat Beaudry Theater, with many industry professionals and supporters representing the film community in attendance. Up-and-coming film creators can showcase their talents and make their mark on the entertainment industry. From Los Angeles Center Studios, Director of Marketing, Dolly Wyatt states, "We're excited to host this contest again. Last year's winning film, Trichster, was touching and inspirational. The fans that attended the screening lent to a lively atmosphere and very interesting Q & A session with Trichster Creator and Director, Jillian Corsie."
The Los Angeles Center Studios Young Filmmaker Competition is open to all enterprising filmmakers. Restrictions do apply. Submissions are required for entry and the film must have been completed after January 1, 2015. Full requirements are available here at: http://lacslife.com/fc.
Los Angeles Center Studios is a full-service studio for television, film and commercial production — a true work/play/shoot for entertainment interests working collectively in a single campus environment. Set on 20 acres in the heart of downtown Los Angeles, this full-service studio features six 18,000 sq. ft. state-of-the-art soundstages and 450,000 square feet of short- and long-term 'Class A' office space for entertainment-related and creative companies in industries ranging from film and television to gaming to music to technology. Los Angeles Center Studios has hosted numerous feature films (including The Hunger Games: Mockingjay, Inherent Vice and Transcendence), television programs (including Mad Men, Castle, How to Get Away with Murder and Scandal), commercials, music videos, concert rehearsals, and events since opening in 1999. More information about Los Angeles Center studios can be found at http://www.lacenterstudios.com.