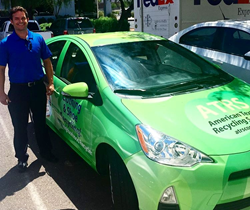 This accomplishment shows just how needed and valued donation bins programs are in our neighborhoods.
Tucson, AZ (PRWEB) April 06, 2016
Tucson residents have done it again! In two short years families, business owners, property managers and other civic-minded organizations have helped to expand the Clothing & Shoe Donation bin program operated by American Textile Recycling Service (ATRS) and achieved a new record high of textiles diverted from municipal landfill in a single month.
A grand total of nearly 100,000 pounds of reusable or recyclable clothing, shoes and other textiles were collected in ATRS bins throughout the community last month, surpassing the previously-set record from January 2016 by 10 percent. ATRS expanded operations into Tucson in June 2014. Over the past two years, enthusiasm for donating gently used clothing, shoes, toys and other household textiles has grown exponentially. This culminated in another record-high collection of approximately 920,000 pounds during the 2015 calendar year.
Diverting more reusable and recyclable materials from landfill has become an important focus for the City of Tucson. In its 2014 Diversion Plan and Roadmap, Cascadia Consulting Group noted that Tucson's overall diversion rate was significantly lower than that of large western U.S. cities like Portland, San Francisco and Seattle. Its percentage of discarded items saved from landfill was also less than neighboring cities Chandler and Phoenix. Cascadia identified textiles as the first major "stop" on Tucson's Road to Higher Diversion. When this diversion plan was published in January 2014, textiles made up 4.5% of Tucson's total waste stream.
Therefore, the new landmark set by ATRS in March 2016 is a win, win for residents and the City of Tucson as a whole. According to a formula developed by Secondary Materials and Recycled Textiles (SMART) Association, the carbon footprint effect of these donations in just one month equates to removing 25 cars from Tucson's streets, or 230 cars last year. The implied environmental impact of enthusiastic textile recycling in every American city - especially those with larger populations and more clothing to be discarded - forecasts an optimistic future for our planet.
"This accomplishment shows just how needed and valued donation bins programs are in our neighborhoods," says Tim Hynd, ATRS Community Recycling Advocate in Tucson. "Our success is a reflection of strong relationships in the community and sharing our message of giving gently used clothing and shoes a second life. A special thanks goes to our dedicated drivers and support staff for tirelessly maintaining our drop off sites and keeping Tucson clean and green!"
Hosting an ATRS Clothing & Shoe Donation Bin costs municipalities and property managers nothing except the use of a single parking space. ATRS manages and services the bins at no cost to the community, and ensures every donation gets a second life. Every pound collected by the company's signature orange donation bins creates a growing network of jobs and directly benefits the Mothers Against Drunk Driving (MADD) Southern Arizona Affiliate. Monthly funding from the donation bin partnership supports programs and services for victims of drunk or drugged driving in the Tucson area.
Area residents can contribute to their city's sustainability initiatives by simply cleaning out their closets throughout the year. ATRS donation bins are available 24/7/365 to accept gently used, out of season, unwanted clothing, shoes, soft toys, and other household textiles. Approximately 98% of these donations can be reused, repurposed or recycled in some way, so residents can be assured all items go where most needed.
About American Textile Recycling Service
American Textile Recycling Service (ATRS) is the nation's fastest growing textile recycler and an official recycling partner of Rock 'n' Roll Marathon. Its socially responsible business model provides free textile recycling solutions for the public, job stimulation worldwide and much-needed funding for worthy local charities. Easy, convenient ATRS Recyclers are available throughout Arizona, Colorado, Texas, Florida, Michigan, Tennessee, Atlanta, Oklahoma, Indiana and Southern California. ATRS is committed to keeping textile waste from local landfills and promoting a greener tomorrow. For press inquires contact pr (at) atrsonline (dot)com.