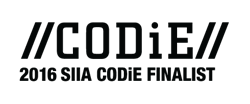 Learning Relationship Management is the uber platform for learner success.
(PRWEB) April 07, 2016
Fidelis Education, the Learning Relationship Management platform, today announced that it was named a finalist for the 2016 SIIA CODiE Awards in the Best Learning Relationship Management Solution category. The SIIA CODiE Awards are the premier awards for the software and information industries and have been recognizing product excellence for over 30 years. The awards offer 91 categories that are organized by industry focus of education technology and business technology.
Fidelis' LRM was named as one of the 160 finalists across 29 education technology categories.
Winners will be announced during a virtual award ceremony on May 18. The top honor of best overall educational product will be presented at Education Industry Symposium, the nation's leading education technology conference, in Denver July 26. The announcement will take place during a special celebration party and dinner.
Fidelis Education's Learning Relationship Management solution is an operating system for out-of-class student success support services such as mentoring, coaching, social-emotional learning, academic support, and community engagement. LRM enables end-to-end learning lifecycle management and fills in the gaps between LMSs (the classroom) and SISs (the transcript and filing cabinet).
"Learning Relationship Management is the uber platform for learner success" says Alan Greenberg of Wainhouse Research.
"Every year the list of CODIE finalists is a case study of how the ed tech industry is using new technologies in combination with knowledge about how people learn to respond to customer needs. They're opening doors for learners of all ages." said Karen Billings, vice president and managing director of ETIN.
Details about each finalist are listed at http://www.siia.net/codie/Finalists
About SIIA:
SIIA is an umbrella association representing 800+ technology, data and media companies globally. Industry leaders work through SIIA's divisions to address issues and challenges that impact their industry segments with the goal of driving innovation and growth for the industry and each member company. This is accomplished through in-person and online business development opportunities, peer networking, corporate education, intellectual property protection and government relations.
About ETIN:
ETIN (the Education Technology Industry Network of SIIA) is the leading voice for 200+ companies that provide software applications, digital content, online learning services and related technologies across the PK-20 sector. ETIN drives growth and innovation within the industry by providing leadership, advocacy, business development opportunities, government relations and critical ed tech market information.
About Fidelis Education
Fidelis Education is the pioneer of the category of education technology called Learning Relationship Management (LRM). LRM allows learning to be more personal and relational for all students by setting them up with the 3 things all students need to succeed (The 3P's of Success™): 1. A motivating purpose, 2. A clear pathway of content and credentials, 3. And a community of people to help them get there. LRM provides a turn-key solution encompassing consulting, coaching, and software, and can make the promise of 10% increases in retention, conversion, and melt for institutions. For more information please visit our website at http://www.fideliseducation.com or email caroline(at)fidelis-inc(dot)com directly.