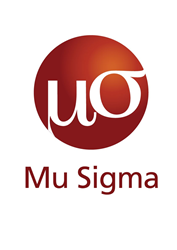 Chicago, Illinois (PRWEB) April 07, 2016
WHAT:
Marketing isn't just about acquiring customers, but about improving the consumer experience across a lifecycle of engagement. Are consumer intelligence and analytics efforts keeping up with that shift in focus? Tom Pohlmann, head of values and strategy at Mu Sigma, will lead a discussion on what it takes for marketing to translate data into actionable insights and better decision-making to improve the consumer experience.
The event – 2016 CMO Forum: Spotlight on Retail and Consumer Goods & Services – will be hosted and led by Argyle Executive Forum, and bring together leading marketing executives from the retail, consumer goods and consumer services industries to discuss the latest challenges and opportunities facing brands today.
WHERE:
Panel Discussion: "Leadership Speaks: Using Analytics to Enhance the Consumer Experience" during the Argyle Executive Forum's CMO Forum: Spotlight on Retail and Consumer Goods & Services in New York City.
WHEN:
Wednesday, April 13, 10:40 – 11:30 a.m. ET
More information: http://www.argyleforum.com/Events/2016-Chief-Marketing-Officer-Leadership-Forum:-Spotlight-on-Retail-and-Consumer-Goods-Services--New-York
WHO:
Tom Pohlmann is the head of values and strategy at Mu Sigma, a leading global provider of decision science and big data analytics solutions. In this role, he leads the company's global brand and communications strategy, manages a portfolio of new client accounts and oversees the development of programs that continuously align the company's work with its values and vision. Recognized as an innovator and creative thought leader in the industry, Tom has more than 25 years of experience in strategy and product development, messaging and branding, profits and loss accountability, mergers and acquisition, customer insights and analytics, publishing and public speaking.
About Mu Sigma
Mu Sigma is a category-defining decision sciences and big data analytics company, helping enterprises systematize better data-driven decision making. The company's interdisciplinary approach and integrated ecosystem of platform, processes and people are redefining how companies approach problem solving in areas of marketing, risk and supply chain. With more than 3,500 decision scientists working across 10 industries Mu Sigma is consistently validated as the preferred decision sciences and analytics partner for large enterprises. Visit http://www.mu-sigma.com.