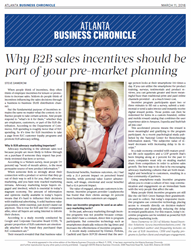 Atlanta, GA (PRWEB) April 08, 2016
The Atlanta Business Chronicle recently released an article by Steve Damerow, CEO of Incentive Solutions, to bring readers insights about marketing techniques specific to B2B industries. In the piece, "Why B2B Sales Incentives Should Be Part of Your Pre-Market Planning," Damerow points out what's missing from the B2B world: advocacy marketing.
Advocacy marketing tactics like customer engagement, personalized experiences, incentive programs and social media outreach have already taken the B2C world by storm. Why isn't the same true for B2B? It's not because B2B buyers aren't responsive to emotion and social appeals. In fact, Damerow cites studies showing B2B customers are more emotionally attached to the brands they buy from than B2C customers.
B2B industries are late to the game when it comes to customer engagement tools like incentive programs because they have very widespread, but very specific customer bases. "In the past," Damerow writes, "advocacy marketing through incentive programs was not possible because companies didn't have a constant, direct link to program participants."
But that's all changing. Today's incentive program technology is getting smarter, capable of delivering the right message to the right channel sales partner at the right time. Sophisticated data exchange means incentive programs aren't restricted to just rewarding participants for buying products anymore. Damerow says, "Incentive program participants spare two or three minutes to fill out a survey, submit a testimonial or send a sales invoice and instantly receive digital reward points."
As long as media and communication is evolving, there will always be new marketing opportunities. The best way to stay ahead in the B2B marketing realm, as Damerow advises, is understanding available connective technology tools. With this and all other Incentive Solutions published insights, the company aims to provide the consultation that inspires new marketing techniques and drives business innovation.
About Incentive Solutions
Incentive Solutions, Inc. was founded in 1994 and is based in Atlanta, GA. Part of The ISI Group of Companies, consisting of Incentive Solutions, Loyaltyworks, and Travel Solutions, Incentive Solutions offers online rewards, travel incentives, and debit card reward programs. Since its creation, Incentive Solutions has been an innovator in the incentive industry by utilizing emerging online technologies that help companies increase sales, engage and motivate employees, encourage customer loyalty, create positive work environments and enrich channel sales relationships.
Incentive Solutions
1-866-567-7432
2299 Perimeter Park Drive, Suite 150
Atlanta GA 30341