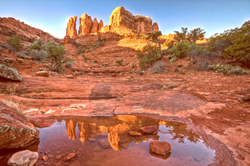 "The real voyage of discovery consists not in seeking new landscapes, but in having new eyes." — Marcel Proust
Sedona, AZ (PRWEB) April 07, 2016
SpiritQuest Sedona Retreats, located in Arizona will be moving to a new location at 25 Kallof Place, Suite 102 in West Sedona. The new retreat center is ideally situated walking distance from partner properties – the Lodge at Sedona as well as the Sedona Rouge, both popular accommodations for SpiritQuest clients. The Medicine Wheel, Labyrinth and Tipi are also on the nearby Lodge property, about 100 yards from the new SpiritQuest Retreat Center location. The actual move will take place April 21-24, so retreats scheduled after this time will meet at the new location. The new retreat center provides a beautiful courtyard area for guests to relax and commune before and between sessions, or have a bite to eat. There are more session rooms, as well as a larger area for group retreat sound healings, meditations, and discussions. The new tranquil retreat center will surely be a Sedona mainstay and provide the environment for even more holistic healing and spiritual retreat experiences. Check the SpiritQuest website where photos of the new center will be posted soon.
The personal Healing Retreat is often requested due to its holistic mind, body and spiritual approach for personal transformation and self-development. The Healing Retreat is ideal for those suffering from stress, anxiety, or grief, as well as people recovering from a recent divorce or break-up, as well as those who feel lost or broken-hearted. Healing techniques such as Reiki, Chakra Balancing, Emotional Clearing and Dreamweaving, Meditation and Yoga may be employed to help participants move through their pain and suffering to gain wisdom in order to move forward with positivity and balance. Personal Healing retreats, as well as any private customized retreat, may be scheduled any time during the year.
A private Yoga and Meditation Retreat may be in order to help bring back a state of inner calm, peace, and balance. This retreat helps individuals get in touch with their authentic self. With private meditation training as well as personal yoga experiences, individuals will have a deeper sense of themselves as well as richer spiritual connection with this retreat. Nutritional consultation for a healthy diet and lifestyle is included, as well as learning about breathing techniques to help alleviate stress and promote deep relaxation. Participants will also experience deep energy work and healing with a chakra balancing as well as body treatment. The private yoga and meditation retreat can be scheduled 7 days a week throughout the year.
The private Spiritual Retreat is a non-sectarian self-awareness experience helping participants to reconnect, find peace, joy, serenity and purpose. Participants may feel they have lost their connection to Spirit, or simply feel out of touch with themselves, depressed or empty. This personal-growth retreat includes sessions such as Spiritual Awakening, Vortex Experience, Breaking Old Belief Patterns, and Third Eye Expansion. The personal customized Spiritual Retreat is ideal for those wanting to deepen their spiritual life and connection, and is available year-round.
SpiritQuest has a number of Group Retreats – see the following scheduled this Spring. April 15-17 Women's: Accessing the Divine Feminine, May 20-22 Spiritual: Discovering Your Soul's True Purpose. Individuals may also add private one-on-one sessions in addition to the group retreat activities. People interested in participating in a SpiritQuest group retreat are encouraged to explore the website then call 928-282-2509 to register.