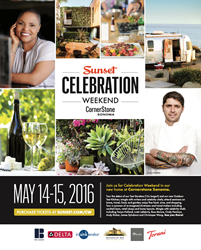 Enjoy fine food, wine and shopping while touring the grounds, which include the grand opening of Sunset's Test Gardens and Outdoor Kitchen, as well as an all-new, high-design Airstream Village.
Oakland and Sonoma, CA (PRWEB) April 07, 2016
Tickets are on sale for the 18th annual Sunset Celebration Weekend, held for the first time at Sunset's new California wine country location. On May 14th and 15th, 2016, Sunset fans will join editors, celebrity chefs, vintners, craft beer brewers and renowned lifestyle experts at Cornerstone in Sonoma, CA, for this two-day series of culinary, wine, garden and lifestyle events. Featured presenters include celebrity chefs Ludo Lefebvre, Tanya Holland, Andy Ricker, Russell Moore, Ayesha Curry, Cindy Pawlcyn, Ellie Krieger and more. To purchase tickets and find more information, go to http://www.sunset.com/cw.
For the first time, Celebration Weekend will be held at Cornerstone, a marketplace with food and wine, shops, gardens and event spaces that will serve as Sunset's beautiful new wine country location. Enjoy fine food, wine and shopping while touring the grounds, which include the grand opening of Sunset's Test Gardens and Outdoor Kitchen, as well as an all-new, high-design Airstream Village.
VIP ticket holders will experience even more at Celebration Weekend, including:

Early entry at 10am
Welcome gift bag
Unlimited tastes from wine, beer, and spirits purveyors
Exclusive VIP lounge access, including live entertainment, featured regional wines, refreshments, catered meals and snacks
Featured Exhibits, Seminars and Experiences:
Tour the New Sunset Test Garden and Outdoor Kitchen:
Designed by Homestead Design Collective, the new nine-acre Sunset Test Garden is divided into distinct garden "rooms," including the Cocktail Garden, the Farm, the Backyard Orchard, and the Flower Room, bursting with blooms like classic David Austin Roses and specialty chrysanthemums. The Gathering Space is the outdoor living room of Sunset's dreams: Olive trees offer shade, and borders of low-maintenance and drought-tolerant Sunset Western Garden Collection plants mingle nicely with graphic succulents. Custom walk-through trellises were fabricated in LA by TerraSculpture and the Frank Lloyd Wright-inspired greenhouse is courtesy of Portland-based NW Green Panels.
The weekend's primary cooking demo location, Sunset's new Outdoor Kitchen, brought to you by Insinkerator, showcases the best of Western living. With luxurious appliances courtesy of Monogram, fabrics by Sunbrella, and features and finishes by Belgard, the Outdoor Kitchen could rival any indoor room. Complete with a standalone wine bar island and a double island cooking peninsula with two grills, refrigerator, sink, and four gas burners, the Outdoor Kitchen has been designed to showcase food and wine pairing demos and educational sessions.
Sunset's Live Fire cooking experience debuts this year, with a campfire ring and chefs demonstrating creative ways to cook over flickering coals. Senior Food Editor Elaine Johnson will join the chefs, whipping up campfire creations from Sunset's newest book, Camp Sunset (May 2016).
From the Pacific Northwest to SoCal, The West's Best Celebrity Chefs Headline Two Days of Cooking Demos:
Top culinary stars will present at least seven seminars per day on two cooking stages. Some of the food world's brightest up-and-coming and established culinary stars are traveling from across the West (and beyond) for Celebration Weekend:
Los Angeles

Ludo Lefebvre—Trois Mec, Petit Trois, Trois Familia, LudoBird, LudoBites (restaurants & popup); Top Chef Masters, The Taste (TV)
Nyesha Arrington—Top Chef (TV), Leona (restaurant)
Portland

Andy Ricker—Pok Pok (PDX, LA, NYC), Whiskey Soda Lounge (restaurants)
Adam and Jackie Sappington—The Country Cat (restaurant)
Greg Denton and Gabrielle Quinonez Denton—Ox (restaurant), Around the Fire (cookbook)
Bay Area

Russell Moore—Camino (restaurant)
Tanya Holland—Brown Sugar Kitchen (restaurant)
Ayesha Curry—Little Lights of Mine (blog); The Seasoned Life - coming September 2016 (cookbook)
Amanda Haas—Director of Culinary, Williams-Sonoma; The Anti-Inflammation (cookbook)
John Fink—The Whole Beast (food truck)
Wine Country

Cindy Pawlcyn—Mustards Grill, Cindy's Backstreet Kitchen, Cindy's Waterfront (restaurants)
Perry Hoffman—SHED, Culinary Director
New York

Ellie Krieger —Food Network's "Healthy Appetites", "Ellie's Real Good Food," - coming May 2016 (TV); You've Got It Made (New York Times-bestselling cookbook)
Alaska

Christopher Wang—Private chef and Alaska fisherman; owner of Gypsy Seafood Company
Wine and Beer Seminars:
Join Sunset Wine Editor Sara Schneider, some of the West's most revered winemakers, and beer experts, including Mandalay Bay Resort and Casino cicerone Sarah Johnson, for educational sessions that range from "A Study of Bubbly" to "Taste Like a Master".
Cost per seminar: $20 per person. Wine and beer seminars have limited seating and are available on a first-come, first-served basis. Purchase advance tickets while supplies last at http://www.sunset.com/cw. Tastings are included in the cost of each seminar. Must be 21+ years old to attend.
Airstream Village:
Interspersed throughout the Cornerstone campus, a caravan of Airstream and travel trailers, some re-imagined as cocktail bars, retail shops and home layouts, will convene at Celebration Weekend. Tour these design-savvy, on-trend vehicles and check out tips from experts on the mobile living revolution.
Home and Design Stage:
From decorating and remodeling to organizing and de-cluttering, design lovers will find more to love on the Home and Design Stage, including design secrets from experts at Decorist, New Minimalism, Apartment 34 and more.
Garden and Outdoor Living Stage:
Sunset Garden Editor Johanna Silver will be joined by some of the West's leading experts in drought-tolerant landscaping, edible gardening, and garden design at this perennially popular area of Celebration Weekend. With two full days of seminars dedicated to the garden, plant lovers will discover practical tips for living life outdoors to the fullest, while gathering strategies and information on the most responsible ways to garden during the drought.
Travel Stage:
From virtual reality to drones, mezcal to sleeping bags, the Travel Stage will feature a diverse lineup of presentations showcasing Sunset's influential Western travel destinations and experts. Learn secrets to wow-worthy smartphone vacation photos, or take part in a round of National Parks Jeopardy. Other sessions include a mezcal tasting through Mexico and "How Does this Work," in which Sunset's travel experts provide answers to the questions that confound travelers on the road.
Celebration Weekend 2016 Event Information:
A complete schedule of presenters and events, event information and online tickets will be available at http://www.sunset.com/cw (coming soon).

What: Sunset Celebration Weekend
Date: Saturday and Sunday, May 14 and 15
Time: 10 a.m. to 5 p.m. (VIP Admission); 11 a.m. to 5 p.m. (General Admission)
Location: Sunset at Cornerstone Sonoma, 23570 Arnold Drive, Sonoma CA 95476
Prices: $125 VIP Admission; $35 General Admission ($45 at the gate); Kids, 12 and under, free with advance purchase ($5 at the gate); Seminars & Tastes (must be over 21 years of age to purchase): Wine & beer seminars $20 per person. Wine and beer seminars have limited seating and are available on a first-come, first-served basis. $15 wine glass and 2 taste tickets. Additional Taste tickets $3 each.
Tickets: Event and seminar tickets can be purchased in advance at http://www.sunset.com/cw, or at the gate.
Parking: Guest parking will be available at the Sonoma Valley Airport, 23982 Arnold Drive, Sonoma 95476. Shuttles will be provided to transport guests to and from the event. Additional information coming soon at http://www.sunset.com/cw
Questions: celebration(at)sunset.com
Stay up-to-date on Sunset Celebration Weekend 2016 by liking Sunset on Facebook (http://www.facebook.com/sunsetmagazine), and following Sunset on Twitter, Instagram and Pinterest (@sunsetmag), or by using the hashtag #thenewsunset.
Sunset Celebration Weekend sponsors include Belgard, Delta Faucets, Insinkerator, Mandalay Bay, Sunbrella and Torani.
About Sunset
Sunset (http://www.sunset.com) is the leading lifestyle brand in the West. Through magazines and books, events and experiences, and digital and social media, Sunset covers the West's best flavors, destinations, design trends, and innovations. Sunset engages and inspires an audience of over five million educated, active and affluent consumers every month through its five regional print editions—Pacific Northwest, Northern California, Southern California, Southwest and Mountain—as well as via all tablet devices and its website. In addition to its print and digital publications, Sunset showcases the region's unique lifestyle and noteworthy destinations through its flagship events, established home programs, licensing partnerships, books and International Wine Competition.