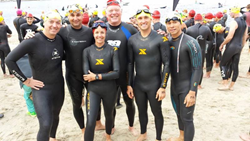 "My clients love Renegade Racing events because they are the safest and the most enjoyable," said Pam Nichol, owner of SBR Coaching.
Irvine, California (PRWEB) April 08, 2016
SBR Coaching, a fitness training company that specializes in preparation for triathlons, has announced a six-week program designed to prepare beginner to intermediate triathletes, of all ages, for the upcoming Breath of Life Ventura Triathlon.
The Breath of Life Ventura Triathlon is hosted by Renegade Racing, the premiere event company in Southern California. The 18th Annual Breath of Life Ventura Triathlon, to take place Sunday, June 26 at the Ventura Harbor, encourages athletes to perform their own fundraising in support of treatment facilities at local hospitals supporting children diagnosed with Primary Immunodeficiency (PI).
Coach Pam Nichol, owner of SBR Coaching, says training will include four open water swim sessions, track workouts, race prep, race strategy and also a practice race. She also added that her "clients love Renegade Racing events because they are the safest, most well-organized and enjoyable events."
SBR Coaching's training will take place May 14 – June 26, 2016. Training days will be on Wednesdays from 6-7:30 p.m. and Saturdays from 8-10:30 a.m. SBR Coaching will utilize Racquet Club of Irvine's pool and open water swims at local OC beaches, as well as running and cycling trails in Newport Beach, Irvine, Tustin and Laguna Niguel.
For more information, go to http://www.octriathloncoach.com or email Coach Pam at coach_pam(at)sbcglobal(dot)net.
About SBR Coaching
Owner Pam Nichol has ten years of experience as a USAT Level 1 Triathlon Coach, receiving her certification in 2005 at the University of Texas in Austin. She continued her education in 2006 at the USAT USA Triathlon, "Art & Science of Triathlon" in Colorado Springs.
She is also an ACSM certified Personal Trainer, Masters Swim Coach and Boot camp Instructor. Nichol has coached hundreds of adults and children in both group and individual settings in the three disciplines — swim, bike and run.
She also conducts group and open water swim lessons at various lake and ocean venues in Orange County. Nichol has completed over 80 triathlons in the last 17 years, including one Ironman and three Half-Ironman finishes. She is also an Olympic distance National qualifier.