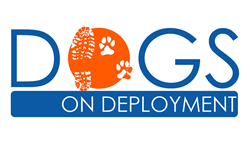 "No other organization provides this service, and we're thankful for GovX and their fans for recognizing the importance of our mission." - President and Co-founder Alisa Johnson
La Jolla, CA (PRWEB) April 08, 2016
GovX, the online shopping site exclusively for current and former military and first responders, announced Dogs on Deployment as April's recipient of the Mission Giveback program. The monthly program allows GovX members to vote on four different service-related causes, foundations, or nonprofits performing work or support among military, first responder, and/or law enforcement communities. Whichever cause tallies the most votes at the end of each month receives a portion of GovX proceeds from all orders placed in the following month.
Dogs on Deployment earned the most votes from GovX members at the conclusion of March voting. Founded in 2011 by Shawn and Alisa Johnson, who serve in the US Navy and US Marine Corps respectively, Dogs on Deployment is a 501(c)(3) nonprofit that provides a network for military members to find volunteers willing to board their pets during their deployments or other military commitments.
"We absolutely love what GovX does to give back to our military communities, and we're thrilled that support includes the pets too!" said Alisa Johnson, president and co-founder. "As military members and pet owners ourselves, we created Dogs on Deployment to provide peace of mind to military members during their service commitments. No other organization provides that service, and we're thankful for GovX and their fans for recognizing the importance of our mission."
"At GovX, we're all about giving back to our members," said GovX CEO Eric McCue. "Dogs on Deployment is one of the most unique organizations we've had the pleasure of meeting, and we consider it an honor to support their mission."
The four new Mission Giveback candidates are available to vote for at http://www.govx.com/giveback. If you are interested in submitting your own organization as a Mission Giveback candidate, learn more about the program and sign up here.
About Dogs on Deployment
Dogs on Deployment is a national 501(c)(3) non-profit providing a central network for military members to find volunteers willing to board their pets while they are deployed or have other service commitments, making them unable to temporarily care for their pets. No pet should ever be surrendered to a shelter due to a military commitment. DoD exists to help military members keep their pets by alleviating the need for pet relinquishment from military members due to the hardships of deployments.
About GovX
GovX.com is for men and women of service. A members-only online destination for military and first responders, the site offers thousands of products from hundreds of brands at exclusive, below-retail pricing. Members include active and veteran U.S. military, firefighters, law enforcement officers, federal agents, and personnel from related government agencies. For more information, visit http://www.govx.com.