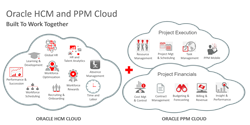 ''We do more''
(PRWEB) May 09, 2016
EPC Technologies is an authorized Oracle Cloud Re-seller and well known for providing comprehensive industry solutions. As innovation leaders in the ERP technology space, the company keeps customers updated on cloud technologies, using their recently launched Oracle PPM.Cloud (http://www.ppm.cloud) , HCM.Cloud (http://www.hcm.cloud) and Financial.Cloud (http://www.financials.cloud) websites.
Oracle Cloud is an industry leading application management services platform for enterprises to transform their business applications. With no Hardware and no Software there are no boundaries. Businesses using the cloud are centralized and accessible from anywhere in the world, on any computer or mobile device, at any time.
EPC Technologies is a global consulting and technology services company devoted to assisting customers revolutionize their businesses by delivering exceptional services and solutions. EPC Technologies, an Oracle gold partner, helps clients ranging from Mid-Size to Fortune 500 companies achieve their goals by tailoring personalized solutions to fit their specific business needs. EPC Technologies has worked hard to established a top-rated implementation methodology that gives an advantage that is vital to their organization. With a skilled and dedicated support team that provides 24/7/365 personalized application support, EPC Technologies deliver significant value to their clients.
EPC Technologies provides the following Oracle Cloud services and support,
Oracle Cloud Implementations
Migrations from EBS, JDE and Peoplesoft
Integration with 3rd party Vendors
Integration and Legacy Systems
Oracle Cloud Extensions
EPC Technologies services also include Oracle Fusion and EBS Implementations, Managed and On-Demand Support, Managed Hosting.