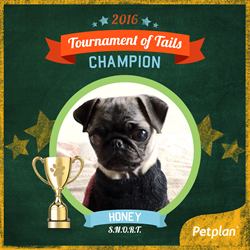 Newtown Square, PA (PRWEB) April 07, 2016
Bark it from the rooftops: Petplan has crowned the first-ever dog champion in its third annual Tournament of Tails! The bracket-inspired online tournament features 32 dogs and cats representing their respective shelters in friendly "nose-to-nose" matchups.
Between March 14 and April 4, animal lovers cast tens of thousands of votes for their favorite furballs. When the dust finally settled, a pug named Honey was ahead by a tail's length. The pet player will take home "barking rights" plus a $5,000 donation for Hoboken, NJ-based rescue Short Noses Only Rescue Team (S.N.O.R.T.).
The 2016 tournament marks the first time a canine contender took the top prize. A cat clawed her way to the inaugural championship in 2014; last year, two felines were crowned co-champions.
Honey overcame incredible adversity to land a tournament berth, arriving at S.N.O.R.T. at just 12 weeks old, weighing a mere four pounds and suffering from both a hernia and a respiratory infection. She had been tossed aside by an unscrupulous puppy mill owner after it was discovered that she had no sight in her right eye, and only limited vision in her left.
S.N.O.R.T. has been slowly nursing the pint-sized Pug back to health and hopes to help her — and many others — find a forever home someday.
"S.N.O.R.T. is very grateful to Petplan for including us in their annual Tournament of Tails and for their generous donation to our rescue," says S.N.O.R.T. Board Member Nicole McKee. "Our puppy mill survivor, Honey, has made it possible for us to help a number of our other foster dogs who currently require medical care before becoming available for adoption."
No pet went home empty-pawed, with every shelter in the tournament receiving a share of the $10,900 purse for each move they made up the bracket, including a $500 donation for runner-up Momma Marcia, who represented L.A.-based Stray Cat Alliance. Perhaps just as importantly, nine participating pets found fur-ever homes — with even more adoptions in the works.
All donations and development resources were provided through Petplanthropy, Petplan's official corporate philanthropic initiative.
"Pets come first in everything we do — whether that's supporting the selfless work of shelters like S.N.O.R.T., or helping pets live longer, healthier lives with pet insurance" says Petplan co-founder and co-CEO Natasha Ashton. "On behalf of the Petplan family, I offer our sincerest congratulations to our tournament champion, and our deepest gratitude to all of our participating shelters."
For more information about the tournament, visit the tournament website at http://www.gopetplan.com/tournament-of-tails.
###
ABOUT PETPLAN
Petplan is more than a pet insurance provider. We're dedicated to giving pet parents the support, resources and tools they need to keep their pets not just surviving—but thriving—into old age. Simply put, we aim to be the kind of company that will make our pets proud. For the third consecutive year, Petplan was listed among the top 50 of Forbes' annual ranking of America's Most Promising Companies – a list of 100 privately held, high-growth companies with bright futures. Petplan is the only pet insurance provider to have been included on Inc. Magazine's list of 500 fastest-growing, privately held companies in America.
Petplan's fully customizable cat and dog insurance policies provide comprehensive coverage for all hereditary and chronic conditions for the life of the pet as standard. Petplan policies are underwritten by AGCS Marine Insurance Company in the U.S. and by Allianz Global Risks US Insurance Company in Canada. The Allianz Group was rated A+ by A.M. Best in 2015. For more information about Petplan pet insurance, visit http://www.petplan.com or call 1-866-467-3875.