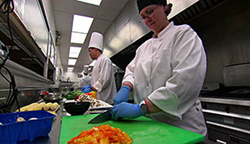 Novi, Michigan (PRWEB) April 12, 2016
The tasks you can complete with your hands range from the simple to the extraordinary; however, your hands can be easily injured in a variety of ways, including crushing, cutting, burning, or even via amputation. MasteryTCN™ recently released three new e-learning courses aimed at providing workers with the safety practices to prevent hand injuries.
"Preventing Hand Injuries" shows workers types of hand injury hazards, how to identify those hazards, and how to avoid them. There are dozens of bones, nerves, arteries, ligaments, joints, and muscles in the human hand. Injuring just one could be catastrophic, even if the injury appears minor, a person could lose their grip strength, dexterity, or movement. This training video gives workers the instructions and knowledge to prevent damaging hand injuries.
"Cut Protection" covers the specifics workers need to know when it comes to using cut protection gloves and clothing. The course demonstrates how to select the proper PPE and explains cut resistance levels. The video shows how to ensure a good fit when it comes to cut resistant gloves, and how to care and use such equipment properly. This course prepares employees to make safe choices when it comes to cut prevention.
"Utility Knife Safety" demonstrates safe work practices for using utility knives. These tools are common, and almost everyone picks one up once in a while. Remember, just because utility knives are common tools does not make them any less dangerous. This video shows everyone, from the casual user to a worker using a knife every day, how to safely use the tool to get the job done, while preventing accidents and injuries.
All three of the courses have been published on MasteryTCN's courseware platform, which means users benefit from the ability to train on every device, including smartphones, tablets, desktops, and laptops. All three of these courses feature HD video and allow users to choose between taking the course in English or Spanish. Courses on the MasteryTCN platform include interactive learning assessments, and many feature closed captioning. All MasteryTCN courses are compatible with any SCORM Learning Management System.
If you are an employer looking to train your workforce, see if your current HR Cloud Service provider offers MasteryTCN™ courses or get a referral from us here.
About Mastery TCN™
Mastery TCN is the e-learning industry's first Training Content Network. Mastery partners with leading video content providers to co-produce the largest, standardized, workplace e-learning resource library available. MasteryTCN then partners with HR Cloud Service providers to help employers obtain high-quality training resources through the vendors they already prefer. In this way Mastery fulfills its mission of helping build more successful, effective and amazing organizations.