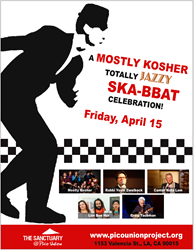 "Shabbat is an opportunity to come together with community"-Craig Taubman, Founder of Pico Union Project
Los Angeles, CA (PRWEB) April 07, 2016
Pico Union Project is excited to announce A Mostly Kosher, Totally Jazzy, Ska-bbat Celebration on Friday, April 15, 2016 from 8pm- 10:30 PM. The evening will feature a Jazz/Cantorial Teaching in Song by Stephen Wise Temple's Rabbi Yoshi Zweiback and Cantor Nate Lam, as well as the talents of Mostly Kosher, a Los Angeles based indie-global-collective whose music fuses klezmer beats with Rock, Hip-Hop and Folk. The evening will begin with Wine Tasting and Lite Bites set to the music of San Francisco's Lior Ben Hur, a reggae band that will have you dancing in the aisles.
The evening will be hosted by Shy Blakeney, a Rabbinic Student at the Academy of Jewish Religion. Craig Taubman, founder of the Pico Union Project says, "Shabbat is an opportunity to come together with community. We're excited to bring together all of these wonderful community leaders and artists."
A Mostly Kosher, Totally Jazzy, Ska-bbat Celebration is part of a monthly series of Hybrid Shabbat events which aim to elevate the ancient Jewish teaching to "Love your neighbor as yourself." Orthodox, atheist or religiously ambiguous, hybrid Shabbat celebrations are a time to explore Jewish faith, culture or history in a safe space.
"Part of what we are trying to do with Pico Union Project is expand the core values of Judaism to those who don't consider themselves traditional Jews," says Ellen Silverman board chair of the Pico Union Project. "We think art and music are the best ways to bridge cultures and communities."
Reservation and $10 donation are requested. Reserve your seat here:
For more information, please visit the Pico Union Project website at picounionproject.org