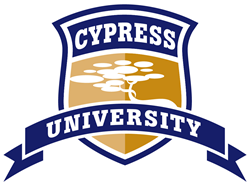 We saw several compelling presentations at Cypress University that underscored the real successes companies are having with self-funding.
Appleton, WI (PRWEB) April 11, 2016
An annual conference hosted by Cypress Benefit Administrators in Las Vegas, Cypress University recently wrapped its fifth year of sharing solutions and strategies to help contain the ever-escalating costs of employee health plans.
Adam Russo of the Phia Group opened the first day with a dynamic keynote address that communicated a clear message to the 250+ participants in attendance: five million lives have come into self-funding at the start of 2016 for the simple reason that self-funding puts employers in control. He explained that having this control gives employers the ability to customize their plan offerings to fit employees' needs and avoid unnecessary costs which, in turn, leads to significant savings. "With self-funding, employers find savings opportunities everywhere," Russo said.
Cypress, a Wisconsin-based third party administrator (TPA), has been hosting the event since 2012. The TPA's goal is to connect employers, brokers and experts in the self-funded industry through a series of panels, presentations and networking opportunities. This latest installment re-visited popular topics from years past like client successes in self-funding and developments in stop loss insurance, but also focused on new innovations and ways of thinking.
"Self-funding has really been in the spotlight in the last few years as it's experienced some tremendous growth," said Tom Doney, president and CEO of Cypress. "The conference is a way for us to emphasize what continues to work with this health plan model and introduce new strategies to keep enhancing it."
Some of the topic areas covered at Cypress University for the first time included the new, innovative GoodRx app with explanation from Bryce Canfield on how it allows consumers to shop for the best prescription prices, and a session by Sean Fogarty of CuraLinc Healthcare that took a closer look at mental health costs and employee assistance programs.
In focusing on having better control of the costs of medical care, Ed Day of HST and Cindy Hom of MedWatch shared the latest progress in the reference-based pricing (RBP) realm and Curt Kubiak of NOVO Health introduced an alternative pricing model that's based on direct contracting with providers.
Other sessions at Cypress University 2016 covered:

Managing prescription costs and understanding new specialty drugs; Cheri Caruso of Magellan Rx
Comprehensive cancer care management; John Van Dyke of INTERLINK
Advances in domestic medical tourism; John and Shauna Thomas of Hostcare Resources
Patient advocacy and navigating the health care system; Angela Altherr of Akeso Care Management
Captive insurance and employer successes; Andrew Clayton of Pareto Captive Services
How to comply with ACA reporting requirements; Mark Combs of ProACA Reporting Solutions
On-site and near-site medical clinics; Deb Geihsler of Activate Healthcare
Chronic kidney disease management; Shelley Grace and Sally Repucci of Renalogic
Controlling the costs of diagnostic imaging; Jim Phifer of One Call Care Management
"We saw several compelling presentations at Cypress University that underscored the real successes companies are having with self-funding," Doney said. "It's our hope that participants will take some of the savings tips and tactics learned here and apply them in their own health plans."
A privately held company headquartered in Appleton, Wis., Cypress Benefit Administrators has been pioneering the way toward cost containment in self-funded health benefits since 2000. The third party administrator (TPA) is the country's first to bring claims administration, consumer driven health plans and proven cost control measures together into one package for companies ranging from 50 employees to thousands of employees. It serves employer-clients across the U.S. with additional locations in Portland and Salem, Ore., Omaha, Neb. and Denver, Col. For more information on Cypress and its customized employee benefits, visit http://www.cypressbenefit.com.