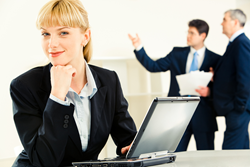 All types of businesses with salespeople can significantly benefit from utilizing the Lead Forensics platform.
(PRWEB) April 08, 2016
Experience Advertising, Inc., a leading Internet marketing agency, has announced a partnership with Lead Forensics, a B-to-B lead generation service provider. By partnering with Lead Forensics, Experience Advertising will provide cutting-edge lead generation solutions for companies of all sizes, by allowing their sales people to know exactly what businesses are visiting their websites in real-time. Evan Weber, CEO of Experience Advertising, stated, "We are beyond impressed with the capabilities of the Lead Forensics platform. Our clients are ecstatic with the lead generation results we are delivering via the Lead Forensics tool. It's nothing short of game-changing for increasing conversion rates on the digital advertising campaigns we are running for our clients. It really enables their salespeople to be that much more effective at both closing their leads and gaining new leads from their website's traffic. Talk about a win-win situation."
About Lead Forensics: The Lead Forensics platform tells a company exactly which businesses have visited their websites in real-time, and lets them discover business to business leads that competitors can't reach. With Lead Forensics, salespeople can see full contact information on every visitor, even if they haven't contacted them or made an inquiry. This allows salespeople to generate leads they didn't know they had and maximize the performance of the website's traffic. The tool uncovers valuable website visitor information including: company name, telephone number, email address, postal address, web address, industry, company profile, and turnover. Lead Forensics is the salesperson's ace in the hole to close more deals and bring in more revenue.
About Experience Advertising: Experience Advertising is a full-service online marketing and social media agency working with companies of all sizes in numerous verticals. As a leading digital marketing agency, Experience Advertising provides industry-best services for companies in a true multi-channel fashion, including the following services:

B-to-B Affiliate Programs
B-to-B Digital Marketing
B-to-B Search Engine Marketing (SEO); content creation; video creation
Increasing website conversion rate
SEM Management - Google Adwords and Bing Ads Management
Social Network Management
Facebook Advertising Management
Twitter Advertising Management
LinkedIn Advertising Management
B-to-B Online Advertising and Social Media
Email Marketing Services
Customer Retention and Loyalty Strategies
Digital Marketing Consulting
Social Media Consulting
B-to-B Ecommerce Revenue Growth Consulting
Digital Advertising Platform Auditing
"All types of businesses with salespeople can significantly benefit from utilizing the Lead Forensics platform," Weber continued. "Lead Forensics is an invaluable tool to the sales process. It adds an additional dimension to the process by providing actionable intelligence and alerts that allow salespeople to be incredibly timely with their follow up processes. I recommend Lead Forensics for companies looking to do the following: advertise online more effectively, generate more leads, close more leads, and have more effective salespeople. We couldn't be more excited to launch our clients on the Lead Forensics platform."
If you are interested in increasing B-to-B leads for your company with effective digital advertising campaigns, visit Experience Advertising.