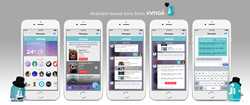 "Streamlining conversational commerce and adding real world color to messages is what Inmoji is all about," said Michael Africk, CEO of Inmoji.
BOSTON AND SAN FRANCISCO (PRWEB) April 08, 2016
Inmoji, the market leader for connecting brands with consumers on mobile messaging with branded interactive emojis, today introduced Inmoji Brand Bots, accelerating the transformation of chat apps into sophisticated marketing and e-commerce platforms. Inmoji's Brand Bots are shareable and extend the company's existing offering, enriching the consumer experience with a deeper connection to brands. Inmoji gives brands a beautiful, dynamic and rich media splash page contained within a branded, clickable icon. Now, marketers can deliver instant, contextual and connected content to engage consumers on messengers and gather valuable data-driven insights. Inmoji Brand Bots are platform-agnostic and can work on any device and messaging app, including Inmoji platform partners Tango, Badoo and MeetMe. A demo of the Inmoji Brand Bot is available at https://goo.gl/s5kjnp.
"Consumers already access Inmoji's rich media campaigns at the exact contextual moment in their organic conversations around content and brands, said Michael Africk, co-founder and CEO of Inmoji. He continued, "This is the same opportune moment in those peer-to-peer conversations when consumers will be far more likely to interact with a bot and appreciate the utility of the experience. Streamlining conversational commerce and adding real world color to messages is what Inmoji is all about."
Powered by Inmoji's proprietary technology, Inmoji Brand Bots will support in-app purchases, discovery of unique brand experiences and entertainment, and capture real-time customer insights. Inmoji brand partners like NBCUniversal, iTunes, Interscope Records, Starbucks, Ticketmaster, MovieTickets.com and Walmart can chose to add this feature to their standard Inmoji campaigns. Inmoji campaigns have achieved dramatic results with engagement rates topping 400 percent using its next generation Engaged Clicks ™ analytics measurement tool.
Inmoji Brand Bot is currently in private beta and pricing will be announced at the time of general availability in Q3 2016. Companies and brands interested in joining the Inmoji Brand Bot private beta program should contact info(at)inmoji(dot)com. Later this year the company is slated to roll out a standalone Inmoji messaging app for users who wish to use bots and share them on any network creating a brand bot store for everyone, everywhere.
About Inmoji, Inc.
Named one of Adweek's Top 5 Startups for Marketers to Watch, Inmoji harnesses the power of 3D Messaging™ to connect people around the world with the brands they love. Inmoji's branded and clickable icons make it easier for people to discover and share content, locations or links without having to interrupt their conversations. So whether friends are looking for a place to meet up for coffee or simply want to share a product they love, Inmoji puts brands into the conversation. To learn more, visit inmoji.com and follow Inmoji on Twitter, Facebook and LinkedIn.