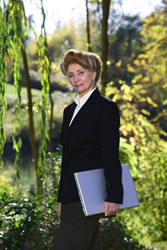 Grants Pass, OR (PRWEB) April 08, 2016
Between 900 and 1300 BCE, 20,000 members of the "Pueblo III Culture" thrived in the Four Corners Region of the Southwest United States. They lived in cliff dwellings and farmed the semiarid mesa tops. By 1300 AD, after a 25 year drought, they had vanished. Radio host and water advocate Sharon Kleyne recently wondered if California, after decades of diminishing precipitation and uncontrolled population growth, might be headed in a similar direction.
Sharon Kleyne will discuss the California water situation and the Pueblo III culture on her Sharon Kleyne Hour™ Power of Water® radio show of April 11, 2016. The globally syndicated, education oriented show is heard weekly on VoiceAmerica (Health and Wellness, and Variety Channels) and Apple iTunes. For podcasts of past shows, go to http://www.voiceamerica.com/show/2207/the-sharon-kleyne-hour
"Sharon Kleyne Hour® Power of Water®," sponsored by Bio-Logic Aqua® Research Water Life Science®, was founded by Kleyne and specializes in fresh water, the atmosphere, body surface evaporation, dehydration and education. The Research Center's signature consumer product is Nature's Tears® EyeMist® for dry eye.
Pueblo III, also called the "Anasazi," Kleyne explains, built cisterns and check dams, and practiced rudimentary irrigation and dry land farming. They knew that soil with high organic content will retain water far longer than soil with low organic content.
Pueblo III abruptly ended, says Kleyne, because of severe drought between 1276 and 1299. The resulting crop failures caused not only starvation but increased warfare. By 1300, the Anasazi had moved south and were absorbed into other groups.
With 39 million California residents, a four year drought exceeding the capacity of the state's reservoir system (despite a one year respite), and declining rain and snow dating back to the 1960s, Kleyne wonders if there are lessons to be learned from the Anasazi?
There are huge differences between the two cultures, Kleyne admits, in technology and population size. It would be difficult for 39 million Californians to simply pack up and leave.
California is the nation's most populous and most agriculturally productive state. This creates tremendous tension between the water needs of cities and farms. It is absolutely critical during a drought, Kleyne warns, to keep agricultural soil and other lands productive and moist. If the drought is allowed to proceed unchecked, in this hot and semiarid region, a situation like the 1930s Dust Bowl could develop: The soil dries out and loses productivity, underlying aquifers dry up, soil microbes die and the soil turns to sand or dust and blows away. The only reason this no longer happens in the Great Plains is that they take aggressive measures to hold the soil in place.
Is there enough water to go around in California? Maybe and maybe not, says Kleyne.
California uses about 5.3 trillion gallons of water per year, Kleyne calculates. That's 371 gallons per person per day times 365 days in a year times the population. The 371 figure is the highest reported estimate (180 is more common), and includes agricultural and industrial water as well as household water.
California receives about 27.5 trillion gallons of rainfall per year, Kleyne calculates. One inch of rain over one acre is 27,000 gallons, times 101 million acres in California, times 10 inches a year (higher in some areas, lower in others).
In other words, Kleyne concludes, California uses one gallon of water for every five gallons of precipitation. When surface water loss to evaporation is factored in (as much as 80 to 90 percent), plus the water needs of forests, wildlife, rivers, swamps, ground water, etc., the 5 to 1 ratio begins to look rather inadequate. If this was the Pueblo III culture, the people would be long gone by now.
Fortunately, says Kleyne, California has the technology and wealth to alter the paradigm. Its two primary technologies are recycling and desalination. With recycling, the local water company sells a gallon of water, then takes back the used water from the purchaser, cleans it up and sells it again. With vastly improved technology and urgent necessity, people have become much more accepting of recycled water. Used water had previously been dumped into the ocean.
Desalination can be expensive, Kleyne observes, but opens up the entire ocean as a water source.
©2016 Bio-Logic Aqua® Research Water Life Science®. All rights reserved.
"Peoples of the Mesa Verde Region," Crow Canyon Archeological Center, 2014
http://www.crowcanyon.org/EducationProducts/peoples_mesa_verde/pueblo_III_overview.asp
Manske, LL, PhD, "Water per acre from one inch of rain," North Dakota State University, 2005
https://www.ag.ndsu.edu/archive/dickinso/research/2004/range04c.htm