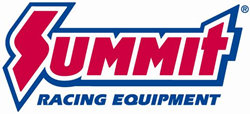 Tallmadge, OH (PRWEB) April 11, 2016
Summit Racing now carries Hotchkis Suspension Components for 1967 through 2015 Chevy Camaro. Hotchkis has an extensive catalog of chassis and suspension components designed to improve handling for every generation of Camaro.
For starters, Hotchkis makes upgrade parts for the stock suspension including:

A-arms
Tie rod sleeves
Steering rebuild kits
Polyurethane bushings
Leaf and coil spring packages in stock and lowered ride height configurations
Adjustable and non-adjustable shock absorbers
Hotchkis Anti-Sway Bar Kits are a popular choice for Pro-Touring or autocross builds. The kits significantly suppress body roll for improved cornering. They include the sway bar(s), mounts, hardware, and polyurethane bushings.
Under hard cornering, the Camaro's unibody construction is susceptible to chassis flex. Hotchkis makes an array of chassis braces, including options for the fenders, strut towers, and frame. Hotchkis Chassis Max Handle Bars are an ideal solution for strengthening the first- and second-gen Camaro's front subframe. Hotchkis Subframe Connectors are also an effective way to strengthen the early F-body chassis.
Want to dramatically improve Camaro handling in one fell swoop? Hotchkis Total Vehicle Suspension (TVS) Systems bundle together upgrades required to turn a Camaro into a serious canyon bomber. The TVS Systems come in three "Stages" which range from mild street performance to all-out track use, so builders can choose the perfect stage for the driving style.
Summit Racing offers Hotchkis suspension components for 1967-2015 Chevy Camaro. Many components for the 1967-2002 Camaro are interchangeable with its F-Body cousin, the Pontiac Firebird/Trans Am.
Summit Racing Equipment
http://www.SummitRacing.com
1-800-230-3030