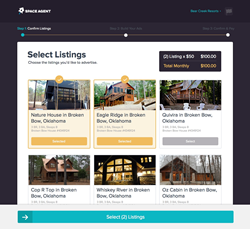 Space Agent gives vacation rental managers a quick and effective way to drive more bookings without digital marketing experience.
Dallas, Texas (PRWEB) April 12, 2016
Marketing a vacation rental home is one of the more time-consuming tasks for vacation rental managers with dozens of properties in many destinations. However, today there is a new 'push button' tool to help both vacation rental managers as well as homeowners with little to no online advertising experience run targeted promotions across Facebook, Instagram, Pinterest and Twitter ad platforms. Launched by Space Agent™ initially for HomeAway®, the new social advertising platform is designed to extend reach and drive bookings.
Space Agent's social advertising and marketing platform is the first of its kind to be integrated in HomeAway's family of sites, providing property managers and owners an easy to use, cost-efficient way to promote homes to targeted travelers.
"We appreciate the value Space Agent can create for property managers and owners listing on HomeAway, and are excited about our integration," says Ryan Patrick, director of product development at HomeAway. "They have taken the complexity out of social advertising and fill a huge need by actively promoting homes while making it easier for travelers to find the perfect vacation home. It's a fantastic idea and the perfect complement to HomeAway's services."
To get started, vacation rental managers go to Space Agent and select the properties they want to advertise from any of the HomeAway family of sites. Space Agent automatically creates eye-catching ads from listing details and uses machine learning to continuously target people showing interest in events, vacations, and other attractions near the property's location – advertising to the most meaningful travelers at the right time. Machine learning identifies the type of content potential travelers are most interested in and uses data to determine which people are most likely to click the ad.
Space Agent provides a campaign dashboard to allow managers to monitor real-time performance results for each property and delivers comprehensive weekly email reporting.
"Space Agent has been great for our luxury cabin rental business on VRBO and HomeAway," says Brenda Porton, a property manager in Broken Bow, Oklahoma. "The process is so simple and the results are amazing. With Space Agent, I know I'm getting the visibility I want for my properties – there's no need to waste time with SEO. Potential guests are seeing our cabins no matter where I show up in search rankings."
Space Agent's goal is to provide significant exposure for listings outside of the HomeAway platforms.
"Marketing your listing is an extremely important and effective way of getting an edge in the vacation rental space," says Matt Sommer, Space Agent founder and CTO. "Space Agent gives vacation rental managers a quick and effective way to drive more bookings without digital marketing expertise."
Space Agent offers social advertising solutions for owners of single vacation rental homes as well as professionals managing thousands of listings. The company has helped owners using HomeAway, VRBO, Airbnb, FlipKey, and other sites drive bookings and promote their brands around the globe. Visit Space Agent for more details.
About Space Agent
Space Agent is a wholly owned subsidiary of MarketChorus, built to bring its audience intelligence technology to the property rental marketplace. MarketChorus applies data science to digital advertising – identifying real-time audiences based on interests and attention expressed across the open web. Space Agent was founded in Dallas in 2014, created by MarketChorus' experienced team of entrepreneurs who build business solutions using machine learning and natural language processing. For more information on Space Agent email info(at)spaceagent(dot)io or visit Space Agent.