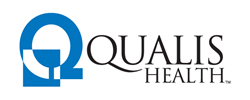 Boise, ID (PRWEB) April 14, 2016
Qualis Health, one of the nation's leading population health management organizations, will present the Idaho Awards of Excellence in Healthcare Quality on April 21. Four healthcare organizations from across the state of Idaho will be recognized for their achievements in improving healthcare quality and outcomes.
"Our changing healthcare landscape requires increasingly vigorous efforts to improve healthcare delivery and health outcomes in Idaho and across the nation. The Qualis Health Idaho Quality Awards celebrate organizations that have transformed healthcare delivery for their communities – making a real difference for their patients and their families," said Jonathan Sugarman, MD, MPH, President and CEO of Qualis Health. "Their achievements exemplify progress towards critical aims for healthcare: better quality of care at a lower cost."
The award recipients will be recognized during a ceremony at the 2015 Idaho Patient Safety and Quality Improvement Conference on April 21 in Boise, Idaho. Kelly McGrath, MD, MS, Qualis Health Idaho Medical Director and Linda Rowe, LPN, MS, Qualis Health's Director of Idaho Care Transitions & Patient Safety, will present the awards.
The 2016 Quality Awards of Excellence in Healthcare Quality are awarded to the following organizations:

Award of Excellence: Large hospital – St. Joseph Regional Medical Center, Lewiston, for their project "Reducing Chronic Obstructive Pulmonary Disease Readmissions: An Evidence-Based Quality Improvement Project"
Award of Excellence: Post-acute provider – St. Luke's Rehab – Elks Subacute Unit, Boise, for their project "Falls Reduction"
Award of Excellence: Critical access hospital – Bonner General Health, Sandpoint, for their project "Stroke Alert"
Award of Excellence: Outpatient setting – Heritage Health, Coeur d'Alene, for their project "Kroc Rx"