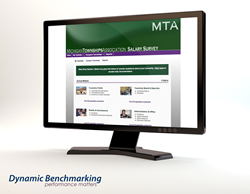 We've been fortunate to identify such exceptional new talent to add to our team so quickly and look forward to further improving on all aspects of our operations. - Jane Higgins, CFO
Windham, NH (PRWEB) April 12, 2016
Dynamic Benchmarking, a provider of customized online benchmarking and reporting solutions, is pleased to announce that it has experienced one of its most successful fiscal quarters since inception. The woman-owned, New Hampshire-based startup is experiencing exponential growth and success as it enters its 7th year of business.
The company's highly flexible and robust benchmarking and reporting solutions continue to achieve great success in the trade association and organization space. In the first quarter of 2016, Dynamic Benchmarking added new customers, launched several new platforms and signed renewal contracts for two existing clients. These new agreements include:

New client, the American Staffing Association (ASA)
New surveys for the American Academy of Ophthalmology (AAO), NIRSA: Leaders in Recreation, the Grants Managers Network (GMN), and the Ambulatory Surgery Center Association (ASCA)
Renewed contracts for both the American Institute of Certified Public Accountants (AICPA) and the Michigan Townships Association (MTA)
"We are so pleased with the adoption and renewal rate of our benchmarking solutions," states Dynamic Benchmarking Co-Founder and Chief Marketing Officer, Lisa Vivinetto. "Benchmarking studies are a vital part of the value proposition of most associations. To be able to make such a positive impact on the member experience for our clients was one of our top priorities from the very beginning."
In addition to the multitude of benchmarking studies Dynamic Benchmarking has launched for its clients, the company recently concluded its own end user survey.
"While we've had outstanding feedback from our association clients, we wanted to hear first hand from end users about their experiences," adds Betsy Delfosse, Co-Founder and Chief Operating Officer at Dynamic Benchmarking. "We're happy to say that both the participation in the survey and the feedback received were highly positive."
The continued growth in sales and demand for new solutions from its existing customer base has necessitated the addition of several new staff members, including two developers, an additional project manager, and a sales administrator.
"In the first quarter of 2016 we've made plans to add to staff to keep up with demand," comments Dynamic Benchmarking Co-Founder and Chief Financial Officer, Jane Higgins. "We've been fortunate to identify such exceptional new talent to add to our team so quickly and look forward to further improving on all aspects of our operations."
About Dynamic Benchmarking
Dynamic Benchmarking is a New Hampshire-based startup that delivers real-time benchmarking and data analysis solutions with the features and capabilities of custom software in a format that is easy to use and quick to deploy. Founded by a team of women entrepreneurs, Dynamic Benchmarking combines powerful, web-based technology with unparalleled industry expertise and customer care to provide best-in-class, peer-to-peer data comparison for small business, associations, large enterprises and any organization looking to tap into the knowledge of the crowd. Dynamic Benchmarking builds web-based solutions that are flexible, scalable and allow for meaningful comparison of financial and operational performance in a dynamic and interactive manner. For more information, please visit http://www.dynamicbenchmarking.com.