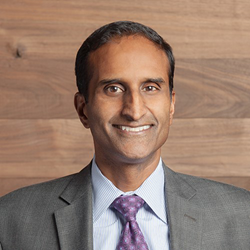 After 12 years of leading the day to day of Sevatec's journey, I am fortunate to have the opportunity to pass the baton to my esteemed colleague, Balan Ayyar
(PRWEB) April 12, 2016
Sevatec, Inc. (Sevatec), a leading provider of Agile software, data, cloud, and cyber engineering solutions for the federal government, announced today the appointment of Balan Ayyar as President and Chief Executive Officer (CEO), effective April 1, 2016. Ayyar, who currently serves as the company's President and Chief Operating Officer (COO), will succeed Sonny Kakar, who will remain the Founder and Chairman of the Board.
In this capacity, Ayyar will lead the firm's operations, growth, and market strategy, and assume overall responsibility for the firm's performance. "After 12 years of leading the day to day of Sevatec's journey, I am fortunate to have the opportunity to pass the baton to my esteemed colleague, Balan Ayyar (Brig Gen, USAF Ret.), who has graciously accepted the role of President and CEO for Sevatec," says Sonny Kakar. "He has demonstrated through his 27 years of service to the US Air Force leading our men and women to execute critical missions, and for the past 18 months at Sevatec leading our transformation to a recognized national security firm and a sector leader in key core capabilities, that he is determined to achieve exceptional results. Further, his alignment to our focus on customer missions, employee engagement, respectful partnerships, and community service make Balan the ideal leader to continue Sevatec's wonderful journey, while remaining truthful to our fundamental principles of Seva. I have high expectations for Balan as he puts his decades of leadership experience to work in formalizing and executing the future strategy of Sevatec, advancing our customer missions, and delivering exceptional value to the U.S. taxpayer."
Commenting on his appointment, Ayyar stated, "I feel very honored by the opportunity to lead this great company. Our success hinges on high performing leadership and we have a tremendous team. The vision, strategy and resources are all aligned around core capabilities in national security missions where our performance helps improve and protect the lives of Americans. Sevatec is a wonderful place to work, grow, and lead."
Ayyar joined Sevatec in 2014, playing an instrumental role in Sevatec's transformation into a top mid-tier organization. Prior to joining Sevatec, Ayyar spent 27 years in the U.S. Air Force (USAF), retiring as a Brigadier General. Prior to command in combat, he led the $232 million, 2,600 person, sales, advertising, marketing, and accessions arm of the USAF through a significant cultural and operational transformation to its best performance in history. In addition, he is a White House Fellow and member of the Council on Foreign Relations.
About Sevatec
Sevatec is a high-technology services firm specializing in Agile, data sciences, cyber engineering, and cloud solutions, leveraging experience and trusted talent to solve the federal government's most pressing business and technical challenges. Sevatec has achieved CMMI Maturity Level 3 ratings for both Development (DEV) and Services (SVC) and maintains ISO 9001:2008, 20000-1:2011, and 27001:2013 certifications. In practice, Sevatec optimizes current industry best practices and incorporates Agile principles to accelerate performance and outcomes for their clients.
Sevatec was founded in 2003 on the concept of "Seva," which means, "Inspired to Serve." The mission, "Trusted Talent, Inspired to Serve, Partnered with Government, to Protect and Improve the Lives of Americans," captures the essence of the firm's culture. Their portfolio of mission-critical technology and consulting initiatives across the federal government supports Homeland and Law Enforcement Agencies, Department of Defense, Department of Transportation, Department of State, and multiple Civilian Departments and Agencies.
To learn more about Sevatec, please visit http://www.sevatec.com.