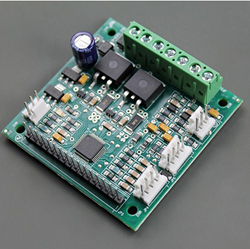 OVEN Industries, experts in precision temperature and sensor applications, offers field configurable low cost Temperature Controller identified as the 5R9-350.
Mechanicsburg, PA (PRWEB) April 11, 2016
This open board temperature controller is specifically designed with a proportional integral control algorithm to provide the most precise control to thermoelectric (Peltier effect) modules at the most economical price. Controller can be setup for heat or cool and can run Ramp & Soak profile. Pulse Width Modulation controls the power level in the thermoelectric module at a base frequency of 2.5 KHz, output stage is high resolution.
Model 5R9-350 specifications:

Input Voltage: 7 to 36 VDC
Output Voltage: 0 to 36 VDC
Load Current: 0.1 to 15A per channel, total current 18 amps max
Temperature Resolution: 0.01°C
Model 5R9-350 features:

Dual outputs or output can be synchronized for higher output current
Outputs are open drain
Proportional Integral derivative control algorithm
Pulse width modulated output
TTL to USB communication via optional OI-TTL-Cable
Setup and Monitor control through included GUI & DLL
Ramp & Soak profile
Temperature Sensor Selection:

TR67 (15K 1.0°C) –20 to 110°C
TR91 (10K) –40 to 150°C
TR104 (50K) 0 to 150°C
TR136 (15K 0.1°C) –20 to 110°C
TR141 (5K) –40 to 90°C
TR165 (231.5K) 25 to 250°C
Oven Industries, Inc. (OI) was founded in 1964 and specializes in the development of custom electronic temperature controllers and sensors along with extensive turnkey Contract Manufacturing capabilities and International Sourcing. OI also carries a full line of standard products, purchasable online, including temperature controllers and sensors, power supplies, heat sinks, thermistors and thermocouples. OI supplies precision electronic devices that serve an array of clients not limited to these industries; aerospace, automotive, biomedical, defense markets, medical and semiconductor. With a superior design engineering staff and complete production facilities, the company is a leading technology and development company.
Contact OVEN Industries at 877-766-OVEN for more specific application or visit http://www.ovenind.com