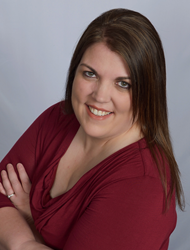 Amy's tenacious, yet easy-going personality brings the right mix needed to target new verticals.
(PRWEB) April 18, 2016
Full Sail Partners, a Premier Partner for Deltek and the Client Feedback Tool, is pleased to announce the hire of Amy Balassone in the role of Direct Marketing Associate. In this role, Amy will work with the marketing and sales team to communicate the value of Deltek Vision to the professional services industry. With more than 12 years of customer service, sales, and marketing experience, Amy will conduct market research on management consulting firms to extend the Full Sail Partners brand beyond the AE industry.
"What has impressed me most about the company is their customer service and dedication to their clients," says Amy Balassone, Direct Marketing Associate. "I feel privileged to be a part of a company that takes a consultative sales approach to ensure prospects are the right fit for the software. That customer focused mentality is what makes this company great and easy to work for."
Amy will support the company's growth goals and provides the firm with the brand awareness development experience needed for Full Sail Partners to help project-based firms develop their systems and processes.
"Amy's tenacious, yet easy-going personality combines the right touch needed to target new verticals," said Sarah Gonnella, Full Sail Partners' Vice President of Marketing and Sales. "We are extremely honored to have Amy join our team. What is most impressive about Amy is her drive and resourcefulness. Her varied experience with marketing and sales along with her previous experience in the Navy as a data systems technician brought the right mix for this position."
About Full Sail Partners
Full Sail Partners provides client-focused technology services and solutions for more than 1,000 professional services firms nationwide. As Premier Partners for Deltek and the Client Feedback Tool, Full Sail Partners helps project-based firms fully integrate their business processes by connecting their front end and backend systems. We seek to help organizations identify the critical resources needed to create a faster, more efficient, and cohesive business infrastructure.
Full Sail Partners – Keep Your Business on Course. | For more information, please email Full Sail Partners' Marketing Communications Department or visit the Full Sail Partners' website at http://www.fullsailpartners.com.