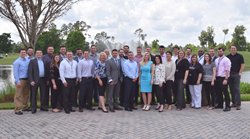 "[This conference] results in bringing a great deal of added value to our builder clients, which is what we're in business to do." - Founder David Rice
Orlando, Fla. (PRWEB) April 20, 2016
Coming off an explosive first quarter, the top minds of New Home Star converged on Orlando for three days of rigorous instruction as part of the company's second Quarterly Director Training of 2016. The conference ran April 13-15, with Founder David Rice addressing the nationwide management team regarding strategies for continuing to embrace the most advantageous housing market since 2005.
"Despite an incredible first quarter, we cannot rest on this success," says Rice. "Our Quarterly Director Training is crucial in making sure we are prepared to sustain growth throughout the rest of the year." This preparation included workshops on relevant topics such as grand opening strategies, maximizing builder margins, new hire development and homesite release plans.
As New Home Star seeks to equip its sales directors with high-level tools, the hope is that these best practices will be conveyed to the firm's 400+ sales associates in a way that enables them to maximize their sales efforts. "It's always exciting to see our directors return to their markets after this meeting and pass on everything they have learned to their sales teams," Rice says. "It results in bringing a great deal of added value to our builder clients, which is what we're in business to do."
About New Home Star
New Home Star is a national real estate sales management firm serving homebuilders and developers across North America. They recruit, select and develop sales teams with a full-time focus on new home sales, working with some of the largest homebuilders in the U.S. and Canada, as well as small and mid-size companies. With a network of local sales divisions from coast to coast, New Home Star delivers sales insight for businesses with a national perspective and a local presence. Their business goal is simple: To Sell More Homes, More Profitably™.