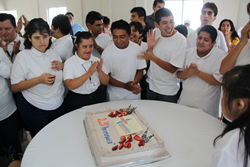 Cancún, Quintana Roo (PRWEB) April 12, 2016
Sunset World Resorts & Vacation Experiences joined the celebration of the 23rd Anniversary of the Association of Parents with Mentally Disabled Children (APAFHDEM), a group that provides occupational and integration opportunities to mentally disabled young adults.
As part of its efforts to support the highly vulnerable groups of the Mexican Caribbean, the hotel chain provided donations in-kind for the celebration of the not-for-profit foundation that offers living arrangements and work to young people and adults with Down Syndrome through their cake making, bread making, cooking and piñata making workshops.
During the anniversary celebration, guests were given an insight about the extraordinary work being done by the association, how it began and the growth it has had in over two decades through the Manos Productivas (Productive Hands) program which contributes to the quality of life of people with intellectual disabilities, promoting their full development and integration as productive members of society.
As part of the celebration, a court was inaugurated where members of the association will do sports and take part in physical activities and, as a sample, several gymnastic formations were presented with great enthusiasm followed by the applause of parents and special guests.
Sunset World is a proudly Mexican company which, since its foundation over 30 years ago, has actively contributed in altruistic activities that benefit the community; one of these is the Golden Years Club of Cancún, which it founded and operates, offering a space for interaction and healthy fun for senior citizens.