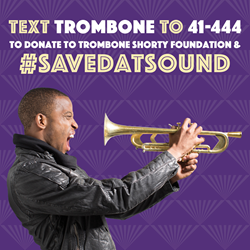 New Orleans, Louisiana (PRWEB) April 12, 2016
The Trombone Shorty Foundation launched its first social donation campaign, #SaveDatSound, to support young musicians in New Orleans and uphold the city's world-renowned musical sound. With mobile and online donations, sponsor matching and giveaways, #SaveDatSound serves as a crescendo in anticipation of Shorty Fest, the Foundation's fourth annual benefit concert at the House of Blues New Orleans on Thursday, April 28, 2016 presented by Presqu'ile Winery.
Music and culture lovers everywhere are encouraged to tag #SaveDatSound on Instagram. For every use of the hashtag, Shorty Fest presenting sponsor Presqu'ile Winery will donate $1 to the Trombone Shorty Foundation during the week of April 17, 2016.
Fans and supporters can make a donation online or by texting "TROMBONE" to 41- 444.
Donations over $25 will be entered to win Shorty Fest prizes, including customized "Trombone Shorty Social Aid & Pleasure Club" t-shirts from local apparel designer tasc Performance and designed by local artist Frenchy, and signed copies of the Caldecott and Coretta Scott King book award honored "Trombone Shorty" children's book.
"I am so proud to have been raised on NOLA's sound and am humbled by the amount of support toward this city's culture and for kids just like me," said Troy "Trombone Shorty" Andrews. "This campaign invites everyone to join me in keeping New Orleans' music alive and well. Support is just one click or text away."
Founded by renowned New Orleans musician Troy "Trombone Shorty" Andrews in 2013, the foundation is Andrews' vision of sharing his passion to inspire the next generation by developing their musical talent and connecting them to the city's unique musical heritage.
This campaign is on the eve of Shorty Fest, the largest fundraiser of the year for the Trombone Shorty Foundation. This Jazz Fest tradition gathers stellar regional artists including the students the Foundation serves. All funds raised go towards music education, instruction, mentorship and musical performance programming for talented local youth. VIP Tickets are still available for purchase by stopping by House of Blues New Orleans box office or by visiting: http://www.hob.com/neworleans
To make a donation, please visit:
http://bit.ly/SaveDatSound or text "Trombone" to 41-444.
For more information on Trombone Shorty Foundation, please visit: http://www.tromboneshortyfoundation.org.
About the Trombone Shorty Foundation
Frontman of the band Trombone Shorty & Orleans Avenue, Andrews credits the support of his own positive role models in the rich New Orleans music community for helping him make his way into the world of music, where he has grown into an internationally recognized, Grammy Award-nominated artist.
The Foundation partners with Tulane University's New Orleans Center for the Gulf South to deliver two music education programs offering underserved high school students the opportunity to pursue music as a career: the Trombone Shorty Academy music performance program and the Fredman Music Business Institute. The programs provide mentorship in music performance and education about the business side of the music industry. The foundation also presents "Trad Fridays" presented by Acura with New Orleans Center for Creative Arts, a free workshop program dedicated to the traditional New Orleans' sound. For more information about the Trombone Shorty Foundation visit: http://www.tromboneshortyfoundation.org.
About Presqu'ile Winery
Located in the heart of Santa Barbara County's Santa Maria Valley, Presqu'ile (pronounced press-KEEL) is a small, family-run winery dedicated to making exceptional cool-climate Pinot Noir, Chardonnay and Sauvignon Blanc. Designed and planted to create a diverse tapestry of vineyard blocks, the sustainably certified, 73-acre Presqu'ile Vineyard features an array of clones, exposures and elevations. Made using this estate fruit, and grapes from a handful of the finest vineyards in the valley, Presqu'ile's wines capture the essence of their vineyards and vintage, and have earned acclaim for their elegance and balance. Situated high atop a hill, with ocean and vineyard views, the stunning Presqu'ile Winery offers one of the most memorable wine tasting experiences on California's Central Coast. To learn more, please visit http://www.presquilewine.com.
Media Contacts:
Kelly Vogt Campbell / Kelsey Cycan
Harmonica
Kelly(at)harmonica(dot)co / Kelsey(at)harmonica(dot)co