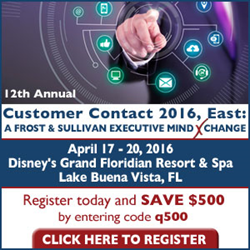 CEO Mike Marrow and V.P. of Client Relations Kristi Walsh will guide attendees through exercises to evaluate how companies can develop contact center supervisors into leaders
(PRWEB) April 13, 2016
Qualfon, a people-driven business process outsourcing (BPO) company and global provider of contact center services, and its executives will lead a roundtable session to explore contact center supervisor best practices at this year's 12th Annual Customer Contact East, 2016: A Frost & Sullivan Executive MindXchange, April 17-20 in Orlando, Florida.
During the session, Who is Taking Care of the Agents? Developing Contact Center Supervisors into Influential Leaders, CEO Mike Marrow and V.P. of Client Relations Kristi Walsh will guide attendees through exercises to evaluate how companies can develop contact center supervisors into leaders who build high-quality relationships with agents in order to drive superior experiences and key business metrics.
Key take-aways include:
-Research on the significance of the contact center supervisor
-Critical factors and obstacles to their success
-Insights in the benefits of having leadership at the point of service
-Best practices for developing supervisors into leaders
As a primary sponsor of the event, Qualfon will have additional leaders in attendance to network and exchange ideas with others in the industry. At the exhibit hall, Qualfon will share thought leadership in supervisor training and offer information on the company's Leadership Academy program, which requires leadership at all levels to complete 19 management courses and attain Six Sigma green belt certification through an independent company.
Learn more about the Frost & Sullivan event and register at http://www.frost.com/ccs
Don't forget to save $500 off registration by using Qualfon's preferred pricing code: q500
ABOUT QUALFON
Qualfon is a person-driven business process outsourcing (BPO) company and a global provider of contact center services and back-office processing. With experienced BPO leadership and a strong track record of business growth dating back to our founding in 1995, Qualfon helps companies reduce costs and deliver superior customer experiences. Today, we have approximately 12,500 employees serving international brands across many industries, and our intelligent outsourcing locations span the United States, the Philippines, Guyana S.A., and Mexico. Qualfon's mission to "Be the Best BPO, Make People's Lives Better" means we invest in our people and, in return, they take better care of you and your customers. Qualfon's employee retention regularly exceeds the industry average, which creates a people-driven value chain: Our employees stay longer, providing you a higher quality service at a lower price.