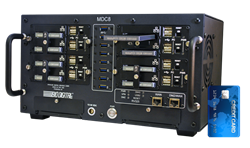 The ADDC MDC-8 will allow small businesses to get rid of their server room.
Lake Success, NY (PRWEB) April 14, 2016
Arnouse Digital Devices Corp. (ADDC,http://www.addc.net), a N.Y.-based manufacturer of high-performance, small form factor, pluggable x86 computers, servers and high security devices, today announced the release of its revolutionary Mobyl Data Center 8 (MDC-8). The MDC-8 is shoe box-sized, holds eight servers and replaces the need for a separate server room to serve a remote office or small business location.
The MDC-8 is centered around eight credit card-sized, quad-core servers. Each server comes equipped with up to 8GB of memory and 128GB of SSD storage. The MDC-8 includes data storage of up to 32TB and features a built-in Cisco RV325 Router and consumes less than 120W of power.
"In the new world of converged appliances, we are moving the needle once again with a solution combining data, web, mail, voice and video servers into one small box eliminating the need for a server room," said Michael Arnouse, president and CEO of ADDC. "We provide a form factor that is interchangeable, easy to manage, low cost and doesn't require an expensive server room or data center environment to run. Simply plug it in and serve up all that a small business requires."
The MDC-8 can operate with the most popular operating systems including Windows Server, VMWare, CentOS, RHEL, Open Stack and many others. Fully capable of deploying Windows Exchange, Cisco virtual routing software and many other typical business applications, either on bare metal or in a virtual environment, the MDC-8 offers a full technology solution for a small business. Scalable and flexible, it becomes the only server choice for frugal IT directors and intelligent small business owners.
About Arnouse Digital Devices Corp
Arnouse Digital Devices, Corp., (ADDC) is a high tech computer manufacturer, concentrating on the miniaturization, and small form-factor, of high-performance, pluggable x86 computers, servers and high security appliances. Founded in 2002, ADDC's flagship product is its BioDigitalPC®, a credit card-sized, pluggable computing card designed to give users an interchangeable compute platform with unprecedented levels of flexibility, compute capacity, miniaturization, power conservation and ultra-high security. The BioDigitalPC weighs less than two ounces, has the equivalent compute power of a traditional server and is both waterproof and shockproof. ADDC also recently introduced its patented Mobyl Data Center (MDC-22), a suitcase-sized mobile data center that holds twenty-two x86 servers housed in a rugged case no bigger than an average carry-on suitcase. We proudly make all our products in the USA.
For more information, please contact us at 516-673-4444 or visit http://www.addc.net