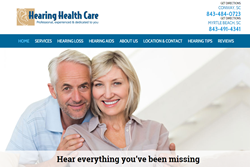 (PRWEB) April 12, 2016
Hearing Health Care in Conway and Myrtle Beach, SC is pleased to offer its patients the revolutionary Lyric hearing aids By Phonak. Described as "the contact lens for your ear," the Lyric hearing aid is the world's first and only 100 percent invisible hearing device that delivers natural sound.
Lyric hearing aids fit comfortably within the ear canal and are completely invisible. They use the natural contours of the ear to deliver natural sound to the eardrum and require no maintenance for extended periods of time. The technology uses advanced micro-engineering to leverage the ears organic shape and capacity to capture sound with minimal processing.
Lyric hearing aids can remain in the ear canal for up to four months, without the hassle of daily insertion and removal, and will perform 24/7 through a full range of daily activities including showering, exercising, and sleeping. Using moisture protection mechanisms and breathable materials, Lyric hearing aids are protected against the elements while remaining out of sight.
The audiologists at Hearing Health Care are certified Lyric providers and are able to quickly and easily fit Lyric hearing aids for patients with hearing loss. Lyric hearing aids do require programming—to optimize hearing for each patient—but after the hearing aids are fit the patient will experience worry-free enhanced hearing for months at a time.
For more information on Lyric hearing aids, visit http://www.hearinghealthcare.net/lyric.
About Hearing Health Care
Hearing Health Care is a full-service audiology practice located in South Carolina, with locations in Conway and Myrtle Beach. The practice offers comprehensive hearing care services to help members of the local community hear better, live better, and reconnect with loved ones.
Contact:
Dr. Pamela S. Benbow
Hearing Health Care
http://www.hearinghealthcare.net
843-484-0723