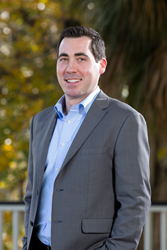 Orlando, Florida (PRWEB) April 12, 2016
Darren comes to ZRS after overseeing the fiscal and operational management of the Crescent Communities multifamily portfolio as Vice President of Asset Management. While at Crescent, his responsibilities included lease-up oversight, market feasibility analysis, partner selection, hold/sell strategy, joint venture operations and maximizing the performance of Crescent-owned real estate investments, consisting of an active portfolio of operating, under construction and development investments totaling approximately 22 assets, 6,000 units and a value of $1.5 billion. While at Crescent, Darren assisted with the execution of 2014's largest development presale transaction in the Southeast (a 9 asset portfolio sale to UBS Realty Investors and Berkshire Property Advisors for $670MM).
With over 11 years combined commercial real estate experience, Darren has served in multiple roles, including finance, acquisitions, property sales, asset management and due diligence. He was Director of Investment Management for Denver-based Archstone, where he assisted in the management of the company's $1 billion discretionary acquisition fund. He has also worked in acquisitions for PNC Realty Investors in Washington, DC, and First Potomac Realty Trust in Bethesda, Maryland.
Darren is a graduate of American University's Kogod School of Business with a dual major in Finance and Marketing. He is also pursuing his MBA at Wake Forest and will be graduating in August.
Along with his wife, Rachel and two sons, Grant and Micah, Darren will be based out of ZRS's headquarters in Orlando.
ZRS Management, LLC is a Florida Limited Liability Company originally formed in 1991 to manage high quality multifamily communities. In 2010, ZRS became a stand-alone third party management company. ZRS currently manages over 32,000 units for various institutional clients, partnerships, and individual owners and was recently listed on the NMHC Top 50 Manager's list. ZRS maintains its headquarters in Orlando, Florida with regional offices in Tampa, Fort Lauderdale, Miami, Atlanta, Washington DC, Austin, Dallas, and Houston.