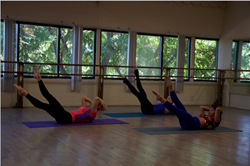 Barboza is opening the new location in the heart of West Hollywood.
Los Angeles, CA (PRWEB) April 13, 2016
The Barboza Method Studio is proud to announce its grand opening on Sunday, April 17th. An opening night event will be held on April 17th from 4 to 9pm. Guests will enjoy drinks and food from neighboring bar The Pikey, and local fresh juice favorite Open Source Organics, and food from PopKitch. Red carpet and photos begin at 4pm. The launch event is open to the press, industry insiders, and clients.
The studio is the home of The Barboza Method training program, a unique workout created by Stefanie Barboza. Stefanie has three successful locations across Los Angeles, and is opening the new location at 7611 Sunset Blvd., in the heart of West Hollywood to meet increased demand. What sets this training program apart is the effect on the body. The method combines stretches and strength training, and is all done on the floor—creating a low-impact, full-body workout. The Barboza Method training program is the crux of the new studio, but Stefanie knows that people need variety in their workouts, so the studio also has a variety of classes offered to members, including yoga, dance cardio, and Pilates.
This studio is unique, with classes offered in both fitness and acting. Stefanie is meeting the needs of the neighborhood, as West Hollywood is known for its high concentration of actors, and a demand for acting coaches. Classes include scene study, improvisation, cold reading, and audition technique. Stefanie has brought together working actors, comedians, and coaches to make The Barboza Method Studio a one-stop-shop for both fitness training and acting coaching. Doing so provides her clients with all they need, at a more affordable price.
Stefanie has this to say of her training program: "I wanted to create a workout that leaves you feeling energized, not drained. We work on the floor, to maintain proper body alignment. Stretching is built in to every move, and by the end of the class you will feel each muscle engaged and lengthened."
In addition to Stefanie and her team of trainers, in attendance will be comedian Dante of Last Comic Standing, actor Michael Matthys of Grey's Anatomy, and actress Dawn Noel. There will also performances from the children's music group at SoundLife Music Academy, and an appearance from Booksicals, a music/literature fusion.
Event Sponsors include: The Pikey, Open Source Organics, PopKitch, and Samuel French.
Members can choose between studio packages starting at $180 per month for 3 classes a week, and up to $400 per month for unlimited classes. The month of April is free. For full schedule of classes, check http://www.TheBarbozaMethod.com
Please contact Rebeca Corleto (818) 519-0481 for exclusives and interviews with Stefanie Barboza and/or event coverage.