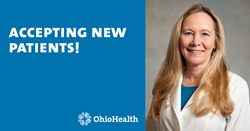 I try to approach each patient individually and provide a caring approach to their personal health care.
Columbus, OH (PRWEB) April 18, 2016
Women's health specialist, Linda Ross, DO has joined Buckeye OB/GYN to provide a full range of care through all ages and stages of a woman's life. She is accepting new patients in their Grove City office.
Dr. Linda Ross graduated from The Ohio University College of Osteopathic Medicine. She taught embryology at Ohio University for 15 years prior to returning to medical school and completing her residency at OhioHealth O'Bleness Hospital in Athens, Ohio. With her research background, she is able to use evidence based medicine to guide her patient's treatments.
"I try to approach each patient individually and provide a caring approach to their personal health care" said Dr. Ross. "I also am committed to conservative approaches to health care, resorting to minimally invasive surgery only after other medical approaches have been exhausted."
Dr. Linda Ross is a compassionate and caring physician, who places an emphasis on getting to know her patients so as to decide the best treatment options. While Dr. Ross practices and enjoys all areas of obstetrics and gynecology, she has a special interest in reproductive endocrinology with an emphasis on polycystic ovarian syndrome, menstrual irregularities, and infertility.
"I enjoy the continuity of care associated with obstetrics and gynecology" said Dr. Ross. "There is nothing more rewarding than helping a woman deliver her infant after watching her progress through her pregnancy."
Buckeye OB/Gyn offers a wide range of services from annual examinations to robotic surgeries and artificial insemination. They strive to provide services that are personalized, upholding the highest integrity, and meeting all patient's expectations. They also offer an on-line patient portal for lab and ultrasound results, extended hours and same day appointments once a patient has become established.
For more information on Buckeye OB/GYN and Dr. Linda Ross, visit: http://buckeyeobgynandwomenshealth.com/home/2300805
About OhioHealth
OhioHealth is a nationally recognized, not-for-profit, charitable, healthcare organization with Methodist roots. Based in Columbus, Ohio, OhioHealth is currently recognized as one of the top five large health systems in America by Truven Health Analytics, an honor it has received six times. It is also recognized by FORTUNE Magazine as one of the "100 Best Companies to Work For" and has been for nine years in a row, 2007-2015.
Serving its communities since 1891, it is a family of 28,000 associates, physicians and volunteers, and a network of 11 member hospitals, 50+ ambulatory sites, hospice, home-health, medical equipment and other health services spanning a 40-county area.
OhioHealth hospitals include OhioHealth Riverside Methodist Hospital, OhioHealth Grant Medical Center, OhioHealth Doctors Hospital, OhioHealth Grady Memorial Hospital, OhioHealth Dublin Methodist Hospital, OhioHealth Hardin Memorial Hospital, OhioHealth Marion General Hospital, OhioHealth O'Bleness Hospital, OhioHealth Mansfield, OhioHealth Shelby and OhioHealth Rehabilitation Hospital. For more information, please visit our website at http://www.ohiohealth.com.