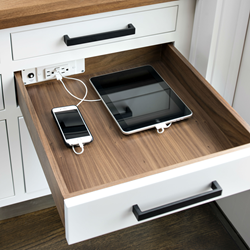 "Since the beginning, Docking Drawer has been committed to creating a quality, usable kitchen charging station for our customers and we couldn't be more pleased that our hard work is being recognized in this capacity."
San Ramon, CA (PRWEB) April 15, 2016
Docking Drawer, a subsidiary of JTech Solutions Inc. was informed that their Slim Series Charging Outlets won the A+ Popular Choice Award in the Plumbing: Kitchen – Fixtures and Fittings category. Over 100 different countries entered the competition and thousands of people awarded their "popular" votes. The support Docking Drawer received was overwhelming.
"We'd like to sincerely thank everyone who has voted for us over the last few weeks, as well as the people of Architizer," said Paul Hostelley, Business Manager at JTech Solutions. "Since the beginning, Docking Drawer has been committed to creating a quality, usable kitchen charging station for our customers and we couldn't be more pleased that our hard work is being recognized in this capacity."
The A+ award is another honor in the steadily growing list of awards and recognition that Docking Drawer has received in the last eighteen months. Docking Drawer was named #10 in during This Old House's 100 Best Products of 2014. Docking Drawer was also a finalist for Best in Show at KBIS 2014. The public recognition over the last 2 years underscores how consumers are demanding integrated, efficient charging and powering solutions for remodels and new construction.
Prior to the invention of Docking Drawer charging and powering outlets, there wasn't a safe way to charge technology in a clutter-free way. Mobile phones and tablets were left out on kitchen counters or desks, plugged into walls by extension cords, and plugged into power strips that were unsafely adapted to the inside of drawers. With the invention of Docking Drawer, a full range of UL 962a Listed charging and powering solutions are now available in a variety of sizes including for 24-inch deep cabinets, 21-inch deep cabinets, and 18-inch deep cabinets. All outlets are fully-assembled and tested. The new slimmer designs, which won the Architizer A+ Popular Choice Award, fit into narrower spaces than previously designed, ensuring that they can fit a range of cabinets.
With a variety of charging and power solutions designed to fit into all types of cabinets, Docking Drawer can easily be installed in kitchens, baths, closets, or in hospitality, campus and medical facilities providing an innovative and functional power source with a clutter-free, organized aesthetic for any room in homes or offices. Their products aren't just for businesses, nor are they just for families. Docking Drawer products are for everyone.
Docking Drawer is devoted to creating innovative electrical products with the highest levels of safety in mind. They are the on-trend market leader of in-drawer electrical outlets and offer a full array of ETL Listed solutions.
More About Docking Drawer Outlets
Charging Outlets – The perfect in-drawer charging outlet, users can simultaneously charge up to four personal technology devices such as laptops, phones, and tablets at once. Charging outlets feature UL Listed circuit breakers that prevent high-powered devices from being used and they are perfect for kitchens, baths, home offices, and closets, as well as professional locker rooms and medical facilities. Docking Drawer also offers a line of charging outlets that are CSA approved for Canada.
Powering Outlets – Providing a functional, clutter-free power source, these outlets are designed to power everyday devices including hair dryers, curling irons, flat irons, kitchen appliances, and additional products that require full power. Featuring a patented integrated thermostat, which will cut power if the surrounding temperature exceeds 120 degrees, powering outlets are ideal for kitchens, bathrooms, and more.
Call Docking Drawer and begin clearing clutter one drawer at a time with a charging or powering solution today.
Paul Hostelley
Docking Drawer
12893 Alcosta Blvd. Ste M
San Ramon, CA 94583
cell: 925-683-0990
paul(at)dockingdrawer(dot)com
http://www.dockingdrawer.com