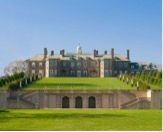 Boston, MA (PRWEB) April 14, 2016
The Trustees today announced that it will kick off a year-long celebration commemorating its 125th Anniversary as the nation's first and Massachusetts' largest conservation and preservation organization on May 21, 2016. Founded in Boston by open space visionary Charles Eliot, The Trustees became the first land preservation nonprofit of its kind in the world, sparking an international movement. The Trustees owns and operates 115 beautiful properties around the state, including beaches, historic house museums, landscaped gardens, community farms, and scenic recreational sites. Supported by nearly 125,000 members, The Trustees' mission is to inspire Massachusetts residents and visitors to form a deeper connection with community and local culture and engage in healthy, active living.
Throughout this 125th year, The Trustees is hosting a variety of public events and programs at some of its most iconic scenic, cultural, and natural sites designed to celebrate and recognize the organization's milestones, accomplishments, and impact on preserving some of the best of Massachusetts for public use and enjoyment.
The official celebration kicks off on May 21, The Trustees' actual anniversary date, with a statewide, free Open House Day taking place at nine Trustees' cultural sites, several of which are National Historic Landmarks. The open houses will feature tours, family activities, and special birthday treats. As part of the 125th celebration, The Trustees are also the subject of an exhibition at the Boston Public Library's Central Library in Copley Square entitled "From the Sea to the Mountains: The Trustees 125thAnniversary," presented in partnership with the Norman B. Leventhal Map Center and currently running through the end of August. In addition, The Trustees will be holding a ticketed event at Le Laboratoire in Cambridge on June 7 to launch a new Public Arts Initiative entitled "Art & the Landscape" which will feature outdoor art installations by renowned artists curated by Pedro Alonzo at four Trustees properties over the next two years.
"We are excited to celebrate this important 125th Anniversary and hope these events and programs will inspire more people to get to know The Trustees and experience our properties in a different light," says Barbara Erickson, Trustees President & CEO. "So many generous donors and forward-thinking leaders have helped us acquire and protect these beautiful places for current and future generations to enjoy. We also want this anniversary to highlight their contributions and increase public understanding of what it will take to maintain and preserve them for everyone for the next 125 years."
Several ticketed, special events will be presented across the state as well, including: a Gala at Appleton Farms, the nation's oldest operating farm, in Ipswich on May 21; Meals in the Meadow at The FARM Institute, the Trustees' newest property on Martha's Vineyard on July 16; an Afternoon Garden Party at Naumkeag House & Gardens in Stockbridge on July 23; a performance by the Boston Pops and special guest Megan Hilty guest at the iconic Castle Hill on the Crane Estate in Ipswich on August 6th; and the Great Point Circle Beach Party on Coskata-Coatue Wildlife Refuge in Nantucket on August 25.
In addition to the many ticketed events, The Trustees are also hosting a series of 125th Anniversary-themed promotions and contests such as free property entry days, hiking contests, travel bingo games and more throughout the year. These experiences are designed to invite members, supporters, Massachusetts' residents and visitors to explore Trustees properties during this 125th Anniversary year and also share their stories, photos, and videos using #trustees125 when posting to social media channels. Specific program and event announcements will follow in the coming months. Visit http://www.thetrustees.org/125 to learn more.
More about the History of The Trustees
Charles Eliot, a landscape architect and protégé of Frederick Law Olmsted, founded The Trustees in response to the effects of growing populations and industrialization on Boston residents before land preservation organizations and urban planning were even conceptualized. A the time, Boston was losing its open space as the nation's fourth largest manufacturing center with plants and factories springing up everywhere and consuming farmland, countryside, riverfronts, and even historic sites. As Boston's population swelled and living conditions were deplorable, Eliot, had the radical idea to set aside land for country parks that would provide fresh air, scenic beauty, and opportunities for quiet repose – antidotes to the ills of urban life. In a letter dated March 5, 1890 to the editor of Garden and Forest—Eliot outlined a "scheme" to save some of the "finest bits of natural scenery near Boston," for the "delight [of] many future generations." His letter became the catalyst for a movement that convinced the Massachusetts State Legislature to establish, just one year later (Chapter 352 of the Acts of 1891), to establish a unique statewide organization "for the purposes of acquiring, holding, maintaining and opening to the public … beautiful and historic places … within the Commonwealth." Thus The Trustees of (Public) Reservations was established and became the first preservation organization of its kind in the world. Within that same year, Eliot also helped to establish the state's first regional park district, the Metropolitan Parks Commission (MPC), which later became the Metropolitan District Commission (MDC) and is now the Department of Conservation and Recreation (DCR).
###
The Trustees preserves and cares for some of Massachusetts' most treasured natural, scenic, and historic sites for public use and enjoyment. Founded in 1891 and celebrating our 125th Anniversary in May 2016, we are the world's first land preservation nonprofit and the Commonwealth's largest conservation and preservation organization. We believe in protecting the irreplaceable for everyone, forever. Our passion is to connect more people to outdoor recreation, culture, agriculture, and healthy, active living by using our 115 diverse properties, community spaces, and over 3,500 annual programs as a powerful and compelling platform. Located within minutes of every resident and visited by 1.6 million people in 2015, our properties span more than 26,000 acres across the state – from working farms, landscaped and urban gardens, and community parks, to barrier beaches, forests, campgrounds, inns and historic sites, many of which are National Historic Landmarks. In addition to our properties, we are also an active leader in land conservation. We hold conservation restrictions on more than 20,000 acres and have worked with community partners to help protect another 25,000 acres across the state. In 2014 we became a founding partner of the Boston Public Market, the first all locally-sourced indoor market of its kind in the nation where we operate our Appleton Farms vendor booth and serve as the educational programming partner for the Market's demonstration KITCHEN. Funded by our nearly 125,000 members and supporters, we invite you to get out, get inspired, and find magic in the moment at a Trustees property near you: http://www.thetrustees.org.