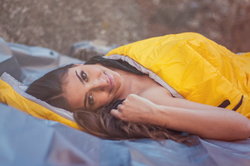 All I could think was I wish I had another heated jacket that I could put over my feet. So I thought why don't we create a heated sleeping bag
PROVO, UT (PRWEB) April 14, 2016
Ravean, fresh of its record setting run with its heated jacket crowdfunding campaign that raised over $1.5 million on Kickstarter and Indiegogo, is back for an encore with the launch of heated sleeping bag liners on Kickstarter. Ravean is utilizing its industry leading portable heating and battery tech to make campers cozy with heated sleeping bag liners - so warm you can sleep naked with nature. The campaign has taken off like wildfire, more than tripling its goal and raising $69K in the first 12 hours.
The inspiration came during a chilly spring camping trip. Ravean co-founder Jon Bybee found his feet were freezing and he was dreading another miserable night. He looked at his Ravean jacket and thought why don't we use this amazing technology for a sleeping bag liner.
"All I could think was I wish I had another heated jacket that I could put over my feet. So I thought why don't we create a heated sleeping bag," said Bybee. "We started chewing on this idea but realized not everyone wants to buy a brand new sleeping bag. So we thought, what if we created something that would make their current bag work in colder temperatures. With that the Ravean heating sleeping bag liner was born."
Never satisfied with creating just one version, Ravean designed two different sleeping bag liners that can be simply inserted into any sleeping bag to help bring the heat.
The first is called "the simple" and is in the shape of a mummy bag. Its heating elements wrap around the user's core and feet. Its adjustable length allows them to put the heat on their feet, where they want. The battery pockets are located at the bottom of the bag to prevent rolling on them while sleeping.
In keeping with Ravean's heated jacket roots, they also created a wearable sleeping bag liner. Loaded with the same tech features, it allows users to get up in the morning and wear their sleeping bag liner like a full length coat. Campers can now enjoy their morning coffee and walk around camp while staying warm without having to change into clothes. They can do that later in the morning, when it's warmer.
In addition to the heated hood, the core and the feet, there are 3 temperature settings: high, medium and low for each heating zone. With the touch button controller, the user can decide exactly where to direct the heat and how much to designate in each area.
It wouldn't be a Ravean product without useful tech features including the ability to charge mobile devices while sleeping and keeping them secure.
With an extra-long main zipper for easy access in and out of the wearable sleeping bag liner, it also comes with a small hood closure to keep things toasty warm on a cool night.
Like the Ravean heated jackets, their sleeping bag liners are also designed to keep users comfortable in temperatures ranging from -4°F (-20°C) up to 55°F (13°C).
Additional features for both heated sleeping bag liners include:

12 volt wearable battery and 2.0 redesigned 12 volt battery with 2 capacity size options
Backwards compatible with 12 volt and 5 volt Ravean heated jackets
DWR Water Resistant
100% washable
Light and stuff-able, comes with its own stuff sack
Unicuff design to keep arms in place and the heat inside while sleeping
Ravean heated sleeping bag liners start at $149 on Kickstarter.
For more information, visit: https://www.kickstarter.com/projects/ravean/sleep-naked-camping-heated-sleeping-bag-liner-by-r
About Ravean
Following our first extremely successful Kickstarter campaign becoming the 3rd most funded clothing item in crowdfunding history, we thought that was great, but wouldn't it be even better to do it twice? So we took the same concept of the Ravean heated down jacket line and literally brought it to bed. Sleeping in the cold while camping doesn't have to happen anymore. With the Ravean heated sleeping bag liners you can camp in any conditions. Wear the Ravean heated jacket while outside during the day and evening and crawl into our heated sleeping bag liners on cold nights to be warm and cozy 24-7. We bring the same quality to our liners as we do our jackets. Ravean....always there to bring the heat no matter the location. https://ravean.com/