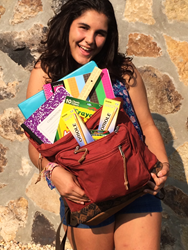 Crowdster has helped us reach a wider audience far beyond our local community and current donor base.
Brookville, New York (PRWEB) April 14, 2016
Fifteen-year-old Ariana DeMattei is the type of person who notices when others are in need. She recognized the economic inequities in her Westhampton, New York school district and decided to help level the playing field. In 2012, she founded Backpacks for Fellow Students (BFFS), which supplies free backpacks full of required school supplies to those local students who are most in need. BFFS was originally intended to fulfill a year-long community service requirement; however, after witnessing the huge positive impact, Ariana wanted to keep it going….and growing. "The need didn't stop, so why should I?"
BFFS became a 501(c)(3) in 2015, which has opened doors to many new opportunities. They can now use Crowdster's digital fundraising platform for their two major fundraisers: an annual appeal and an autumn 5k run that draws big-name sponsors like Jimmy Buffett's Margaritaville. Ariana's mother, Nancy DeMattei, who serves as President of BFFS, said that the platform gives them greater credibility and a more professional approach. She considers Crowdster a key component of their expansion plans: "The East End of Long Island has a limited pool of fundraising opportunities. Crowdster has helped us reach a wider audience far beyond our local community and current donor base through their easy-to-use platform, their integrated email and social media marketing, and their helpful management team."
The Crowdster team met Ariana at Philanthropy Day 2015, where she was being honored by the Long Island chapter of the Association for Fundraising Professionals as a Leader of Tomorrow. Her poise and conviction instantly made a great impression, and Crowdster is thrilled to help take her efforts to the next level.
In its first year of operations, BFFS supplied 150 backpacks to students at a single elementary school. Just three years later, they branched out to three elementary schools and provided 500 backpacks. Ariana wants to keep up this momentum and eventually go national so that many more children, no matter what their socio-economic situation, can compete with their peers and achieve academic excellence.
"Through BFFS I have seen many lives change for the better, and I am so grateful to those who have joined me on this journey. By yourself you can do incredible things, but when you have the support of people around you, you can do anything."
ARIANA DEMATTEI
To donate to Ariana's campaign, click here.
To learn more about how Crowdster can help your nonprofit grow, click here.