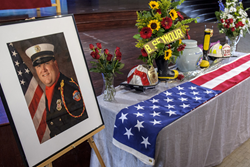 I encourage you to register to be an organ donor, because you too can save a life and be someone's hero.
WATERLOO, Iowa (PRWEB) April 15, 2016
Iowa firefighters and EMTs are widely considered heroes. But the family of one Waterloo firefighter is still waiting for a hero of their own. Jill Junk, 57, the wife of Waterloo firefighter Joe Junk, is one of 19 Iowans on the organ waitlist in need of a new liver.
The Iowa Firefighters Association is partnering with the Iowa Donor Network to challenge each county in Iowa to gain 100 additional registered organ donors in 100 days, issuing the challenge on National Donate Life Green and Blue Day to raise awareness of the lifesaving importance of being a registered donor.
"There are 624 people on Iowa's organ waitlist and more than 123,000 people on the national waitlist," said Tony Hakes, Iowa Donor Network public outreach manager. "One donor has the potential to save up to eight people's lives through organ donation and help more than 50 people through tissue donation. Just imagine how many people on this waitlist we could save, if we can reach our goal of 100 people per county."
Wendy Lensing, Iowa Firefighters Association executive director, couldn't agree more about the multiple lives that can be saved through organ donation. Last month, Brian Seymour, a retired Indianola Fire Chief, past president of the IFA and an organ donor, died from injuries sustained after a major fall. Seymour dedicated 32 years of his life to public service, as a firefighter, paramedic and EMS director, and to helping others, as mission trip leader to Africa to teach children fire safety and to provide an African community with a fire truck.
"In one last act of honor in helping others, Brian was an organ and tissue donor," said Lensing. "In death, he positively impacted 72 lives through his gift of life. It seemed fitting for the IFA to issue this lifesaving challenge to Iowans in Brian's memory and in hope of helping Jill Junk."
Judy Rottinghaus, retired Waterloo Fire Rescue firefighter and paramedic, added her support to IFA's challenge. A living kidney donor herself, Rottinghaus is not one to sit back when others are in need—and especially a member of her firefighting family.
"I've been a registered donor since I signed up for my first driver's license," said Rottinghaus. "I didn't have a particular person in mind when I decided to become a living donor and do not know the man who received my kidney. I am simply glad that I have given him six years that he might not have had."
Rottinghaus said she felt that because she had two healthy kidneys and could help someone, she should. And, that feeling ended up saving her life.
"I gave him hope, altruistically, and he gave me life, specifically," said Rottinghaus.
Two years after her kidney donation, Rottinghaus was experiencing abdominal pain at the incision site of the kidney surgery, which required her doctors to take more images. Those images showed a problematic tumor on her pancreas. Rottinghaus likens her kidney donation as a gift of hope to the man she provided a kidney, which turned into receiving the gift of early detection and successful treatment of a precancerous tumor for herself.
"Now, we have a member of our firefighter family whose battle with pancreatic cancer has led to liver failure," said Rottinghaus. "We are all rallying around Jill and Joe, and hope and pray Jill receives her liver transplant very soon. I encourage you to register to be an organ donor, because you too can save a life and be someone's hero."
In 2014, the lives of 29,532 Americans were saved through organ donation. Anyone can register to be a donor regardless of age or medical condition. Watch this video of the first responders encouraging Iowans to be donors and a ceremony at the Waterloo Fire Station sharing these Iowa firefighters' stories. Visit IowaDonorNetwork.org to sign up to be a donor today.
About Iowa Donor Network:
Iowa Donor Network (IDN) is a nonprofit organization that operates as the primary contact for organ, tissue and eye donation services for the state of Iowa. The Centers for Medicare and Medicaid Services have certified IDN to function as the single organ procurement agency in the state. IDN also serves as the tissue recovery agency for the state and is accredited by the American Association of Tissue Banks. To learn more about IDN, please visit http://www.IowaDonorNetwork.org or call 319-665-3787.
# # #