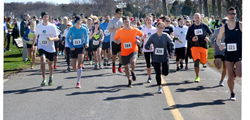 We want people to have fun, but we also hope to educate them about the escalating incidence of tick-borne diseases.
Greenwich, CT (PRWEB) April 14, 2016
Calling all runners, walkers and all those who want to join the fight against Lyme and other tick-borne diseases! Global Lyme Alliance's second annual "Bite Back Against Lyme Run & Walk" will be held Sunday, April 24, at Cove Island Park in Stamford, CT. The event will raise funds to support research and education about Lyme and other tick-borne diseases.
The family-friendly event will feature a 5K Run/Walk that will start and finish in the park and covers a flat 5K loop on local neighborhood roads. There will also be a one-mile Walk and a Fun Run inside the park for children 10 and under (all finishers will receive medals). The event, timed to kick off Connecticut's Lyme Disease Awareness Month, will be held rain or shine.
"Last year we raised nearly $35,000 and this year we're hoping to do even better," said Orna Grand, event chair. "We want people to have fun at the event," she said, "but we also hope to educate people in the community about the escalating incidence of tick-borne diseases and the ongoing need for research."
Onsite registration will begin at 9 a.m. with the 5K run kicking off at 10 a.m, followed shortly by the walks. The Fun Run will begin at 11:30 a.m. Individuals can register for $25 each ($30 day of event); families (up to six participants, same household) can pre-register at a family rate of $85 ($90 on day of event). There will be refreshments, music, vendors and information from the area's health department.
Registered participants can help raise funds for Lyme research by forming a team and inviting friends and family to sponsor the team's run or walk with a pledge to GLA. For more information, go to Events(at)GlobalLymeAlliance(dot)org.
Sponsors and vendors for the Bite Back Against Lyme Run & Walk include Connecticut Tick Control, Craig Skinner Photography, Crystal Rock Water, Deb Bossio ND, Fleet Feet Sports of Stamford, Freudigman & Billings LLC, Gold's Deli, Igenex, Greenwich Health District, Greenwich Running Company, Honda of Westport, Maritime Rowing Club, Munk Pack, Orthopedic & Neurosurgery Specialists, 95.9 the Fox,The Edge Fitness Clubs, Tony Spero's A Touch of Magic, Trader Joe's in Stamford and the University of Bridgeport Health Science Division.
Lyme is one of the fastest growing vector-borne infectious diseases in the U.S, affecting some 329,000 Americans a year. If untreated, it can become a severely debilitating illness affecting the joints, muscles, heart and brain. Moreover, Lyme-infected ticks can carry multiple co-infections.
To register, sponsor, fundraise or for more information about the Bite Back Against Lyme Run & Walk, visit LymeWalkRun.org, Events(at)GlobalLymeAlliance(dot)org or call 203-969-1333.
________________________________________________________________________________
ABOUT GLOBAL LYME ALLIANCE
Global Lyme Alliance, a leading Lyme and tick-borne disease nonprofit, funds cutting-edge research at leading U.S. universities for the purpose of developing reliable diagnostic tools, effective treatments and ultimately a cure for Lyme disease, while building greater public awareness for disease detection and prevention. The 501(c)(3) is headquartered in Greenwich, CT. For more information go to GlobalLymeAlliance.org.