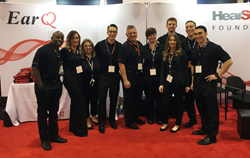 Phoenix, AZ (PRWEB) April 15, 2016
This year, the annual AudiologyNOW! convention took place in Phoenix, Arizona where hearing healthcare professionals gathered to participate in the largest trade show in the industry. Beginning April 13th, EarQ demonstrated how its innovative programs can deliver more patients, more potential, and more profits. Some topics included how to recognize and sell to personalities in the clinic, why strategy is the most valuable asset for today's practice owner, the importance of feeding your entrepreneurial spirit, and how to excel on all digital fronts.
EarQ is invested in independent practice. Because there are various options and influences in the hearing healthcare industry, it can be difficult for independent practice owners to know who they should partner with and the best ways to operate their businesses. EarQ aims to help practice owners succeed while always maintaining their clinical and ethical standards.
About EarQ:
A prestigious nationwide network of independent hearing healthcare providers, EarQ utilizes innovative business and marketing practices as well as national public awareness efforts to advocate for excellence in the industry and in patient care. Through its 1,400 hearing healthcare provider locations nationwide, EarQ helps provide greater access to quality hearing healthcare services and products.