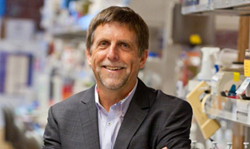 San Francisco, CA (PRWEB) April 14, 2016
Michael Rowbotham, MD, Senior Scientist and Scientific Director of the California Pacific Medical Center Research Institute (CPMCRI), will be honored on April 17 with the 2016 Mitchell B. Max Award for Neuropathic Pain, in recognition of his outstanding research and clinical achievements. The recognition will occur during the American Academy of Neurology (AAN)'s Annual Scientific Meeting, one of the largest neuroscience meetings internationally, which starts April 15.
A leading international pain researcher, Dr. Rowbotham's scientific work in neuropathic pain has greatly influenced how chronic pain is managed. Among his accomplishments, Dr. Rowbotham published the first study of topical local anesthetics for neuropathic pain that eventually lead to FDA approval of the lidocaine patch for post-herpetic neuralgia (PHN); conducted the first fully blinded trials of opioids for neuropathic pain; and lead the early pivotal trial of gabapentin for PHN.
Persistent pain affects 100 million Americans—more than diabetes, heart disease, and cancer combined. Dr. Rowbotham is among a select group of researchers nationwide advancing what we know about the mechanisms and treatment of chronic pain.
With findings published over the course of his 30-year career in high-impact journals including PAIN, The New England Journal of Medicine, Neurology and The Lancet Neurology, Dr. Rowbotham is well known for his clinical trials innovations and pioneering mechanisms-oriented clinical studies.
He has incorporated human experimental pain models into the testing of new analgesic drugs for chronic neuropathic pain and conducted clinical trials in disorders as diverse as pain following herpes zoster (shingles), pain resulting from chemotherapy for cancer, post-stroke pain, fibromyalgia, and the pain experienced by melanoma patients after surgery. He is at the forefront of understanding the transition from acute to chronic pain, and developing novel protocols for treatment.
Last year, Dr. Rowbotham conducted a systematic review and meta-analysis of trials on drug treatments for neuropathic pain that yielded updated clinical guidelines. In collaboration with other leading international pain researchers, Dr. Rowbotham's research (published in The Lancet Neurology) provided new recommendations for improving the treatment of complex, chronic pain disorders.
For more information on Dr. Michael Rowbotham's work and information about the CPMCRI visit http://www.cpmcri-currents.org