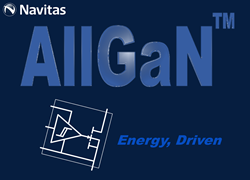 GaN Power ICs drive converter performance.
El Segundo,CA (PRWEB) April 19, 2016
Navitas Semiconductor today announced a technology seminar titled "GaN Power ICs and the High Frequency Eco-System" as part of the Power Sources Manufacturers Association's (PSMA) Power Technology Roadmap.
The Navitas seminar is part of a year-long series by power electronics experts from industry and academia, to be included in the PSMA's roadmap published in March 2017.
The GaN market is forecast to be US$2.6B by 2022, driven by the efficiency, size and cost-benefits of high frequency switching. The seminar introduces Navitas' proprietary AllGaN™ technology with the world's highest performance 650V GaN FET, drive and logic circuits, and the low inductance, low profile industry-standard packaging which combine to make a simple yet powerful powertrain building block for off-line AC-DC, 400V DC-DC or inverter systems. Real-life application examples - with schematics, layout, waveforms and thermal results – prove higher system efficiency, higher power density and lower cost by addressing issues such as gate drive, layout, availability of MHz magnetics and controllers, EMI performance, etc.
"It is a great honor for Navitas to be a key part of the PSMA's Power Technology Roadmap," said Stephen Oliver, VP Marketing & Sales at Navitas. "Increasing converter switching frequency by industry collaboration – with new GaN Power ICs, new controllers, new magnetic materials, new topologies – reaps huge rewards in system performance and cost."
The free seminar, with live Q & A, will be presented on Thursday April 21st 2016 at 11am Eastern Standard Time (USA). PSMA members will automatically receive registration emails, non-members may register here or by emailing power(at)psma(dot)com.
About Navitas:
Navitas Semiconductor Inc. is the world's first and only GaN Power IC company, founded in El Segundo, CA, USA in 2013. Navitas has a strong and growing team of power semiconductor industry experts with a combined 200 years of experience in materials, circuits, applications, systems and marketing, plus a proven record of innovation with over 125 patents among its founders. The proprietary AllGaN™ process design kit monolithically-integrates the highest performance 650V GaN FET and GaN driver capabilities. Navitas GaN Power ICs enable smaller, higher energy efficient and lower cost power for mobile, consumer, enterprise and new energy markets. Over 25 Navitas proprietary patents are granted or pending.
For further information, please contact:
Stephen Oliver, VP Sales & Marketing
Stephen(dot)oliver(at)navitassemi(dot)com, +1 ThinkGaNIC (+1 844 654 2642)