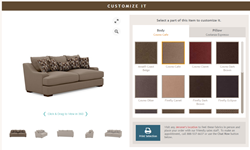 We believe the 'Customize It' will ease the process of ordering custom-made furniture and eliminate hesitancy since customers can actually see what the piece will look like in real life
San Diego, Ca. (PRWEB) April 18, 2016
Jerome's Furniture launched its 'Customize It' 3D furniture viewer to help customers visualize custom-order furniture both in-store and online. The feature will provide customers with the ultimate online ordering experience, allowing shoppers to custom order furniture and see how it will look with different colors and fabrics. With zoom capabilities up to 4,000 megapixels of resolution, the feature allows the customer to select the body fabric and pillow fabric with such detail that the user can even see the weave of the fabric.
"We believe the 'Customize It' will ease the process of ordering custom-made furniture and eliminate hesitancy since customers can actually see what the piece will look like in real life," says Scott Perry, Vice President of Digital at Jerome's Furniture.
The 'Customize It' feature will be available for all custom order sofas including loveseats, sleeper sofas, chairs and sectionals. Jerome's sales staff is equipped with iPads to utilize the feature when working with customers on special orders in-store.
Online, the 'Customize It' is a resource for users to build a custom sofa with a specific body fabric and pillows, print it out to share with family and friends or bring into a store.
Jerome's Furniture is a Southern California-based, family-owned furniture store that is looking forward to the grand opening of its 12th location in Fountain Valley coming in May 2016. Headquartered in San Diego, Jerome's has locations spanning from San Diego to Los Angeles.
About Jerome's Furniture
Jerome's Furniture was founded in 1954 by Jim & Esther Navarra and is still owned and operated by the Navarra family. In 2005, the company streamlined its operations, opening a 450,000 square foot distribution center, and in the last few years has expanded its store locations outside of its San Diego headquarter area. Jerome's has grown to a more than 750-employee company with 12 locations across Southern California in San Diego, San Marcos, Chula Vista, El Cajon, Scripps Ranch, Murrieta, Corona, Rancho Cucamonga, South Bay/Torrance, Anaheim, Laguna Hills and coming soon to Fountain Valley. Jerome's sets the standard for exemplary service, offering same-day delivery, free in-home design service and everyday low prices ("Jerry's Price"). Jerome's was also honored at the 2015 Furniture/Today's Annual Leadership Conference amongst the top five "Family Dynasties" in the furniture industry. For more information, please visit Jeromes.com or visit their Twitter and Facebook pages.