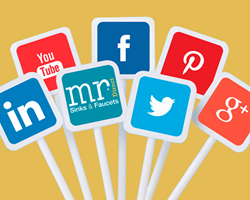 ...share stories from the sites of interior designers, plumbing experts, construction specialists, and more.
Toledo, Ohio (PRWEB) April 27, 2016
MR Direct is announcing today that it has broadened its presence on the most popular social media websites. Up to this point in time, MR Direct has taken a casual approach to the use of social sites; however, it is clear that this ever-advancing technology has become a vital tool in efforts to educate and communicate with established and potential customers. With more and more people turning to interactive sites daily, MR Direct has decided to take a leadership role by creating a prominent presence in these venues.
The sites being used include: Facebook, Google+, Twitter, Pinterest, and Instagram. The company's research points out that when it comes to kitchen and bath products, consumers are often confused by the voluminous amount of information, and misinformation, spread all over the worldwide web. The person who is buying a new sink is often going to be in the market for related materials like cabinets, countertops, lighting and flooring. These would-be remodelers are generally looking for everything from innovative design ideas for the kitchen, to simply the best price for a bathroom basin. Their search can get confusing and contradictory.
MR Direct wants to sort through the clutter and present, not only their own quality sink and faucet products; but also share stories from the sites of interior designers, plumbing experts, construction specialists, and more. By filtering out misleading articles, and sharing what they believe to be important insights, MR Direct hopes to educate the consumer on creative trends, new products, and how-to techniques from leaders in the industry.
It is hoped that the sharing of intriguing posts will encourage visitors to engage in online conversations. Tips and tricks can be exchanged so guests can avoid the pitfalls others may have discovered the hard way. The platform also opens up a new door where dialogue can begin between two professionals, two consumers, or a consumer and a professional. In the end, it is MR Direct's hope to facilitate these interactions to the benefit of all involved.
The following are the MR Direct addresses one can visit.
Facebook Link
Google+ Link
Twitter Link
Pinterest Link
Instagram Link