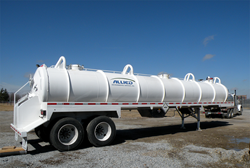 The maintenance services we provide to the Great Lakes petro-chemical industry have continued to grow over the past year
Lima, OH (PRWEB) April 17, 2016
To meet increasing customer demand, Allied Environmental Services, Inc. (Allied), one of the Great Lakes region's premier environmental services providers, recently announced that it has expanded its fleet of specialized equipment through acquisition of an additional 130 bbl hazardous materials vacuum tanker.
The new transport tanker is a GVS/Fruitland combo with a capacity of 130 bbl (5,460 gallons). The new unit is certified for hazardous materials transportation and increases Allied's tanker fleet to three, expanding the company's ability to serve its growing customer base.
According to Gary Gootee, Allied Industrial Services Manager, the new tanker will typically be used for transporting gasoline/water, and other fuel mixtures, generated by bulk storage tank cleaning operations. "The maintenance services we provide to the Great Lakes petro-chemical industry have continued to grow over the past year, and the new tanker will help us meet that demand," Gootee stated. "In fact, we will very likely be adding another tanker to the fleet by year's end," he added.
Allied's industrial services equipment fleet currently consists of several vacuum trucks, vacuum tankers, a hydroexcavating unit, multiple sewer jetters and hydro blasters, hazardous materials transport units, a fleet of roll-off containers, and cryogenic blasting equipment.
About Allied Environmental Services, Inc.
Allied Environmental Services, Inc. (Allied) is an environmental contracting and consulting firm headquartered in Lima, Ohio. For over 29 years, Allied has provided professional environmental and industrial maintenance services to private industry, government and military facilities, municipalities, schools, and hospitals. Allied specializes in industrial cleaning (vac-truck and hydroblasting services), pipeline services, hazardous materials management, emergency spill response, hydro-excavating, pond sediment removal, well field services, asbestos abatement, underground storage tank closure, environmental consulting, and industrial hygiene services.
For more information please visit Allied's website at http://www.alliedesi.com.