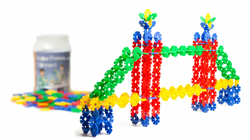 SnowFlakes Connect is a great engineering toy. They can be used to build bridge, house, flowers, castle, boat etc. Also they are great for stringing activity, building letters, art activities, learning and practicing shapes and pattern recognition.
San Diego, CA (PRWEB) April 19, 2016
Rated for ages 5 and up, SnowFlakes Connect is the newest in the Amazon's collection of fine motor skills development toys. The simple, non-electronic toy promotes engineering and provides boys and girls with a creative outlet for expanding their imaginations. Featuring 340+ vibrantly colored pieces, the SnowFlakes Connect can be connected together to build an endless array of shapes and structures, including bridge, animals, houses, and castles, while promoting hand-eye coordination. Each piece measures at 1.3" wide, ideally sized for small hands.
According to Saritha Bhandarkar, Founder at Little Genius Minds, "We believe that kids are only limited by their own imaginations. Parents and caregivers can use SnowFlakes Connect as a way to work with kids on learning colors, numbers, math and building new things, reaching new heights of imagination play and learning at the same time!" She goes on to add that the sales have taken a dramatic leap since they launched this video on YouTube.
SnowFlakes Connect is an excellent gift for 5+ year old boys and girls, providing endless moments of fun and imaginative playtime. The durable SnowFlakes Connect set is made with non-toxic materials that is CPSIA compliant. They are BPA free and phthalate free, offering peace of mind for parents and caregivers. In addition, all pieces can easily be washed with wipes or warm, soapy water.
One recent customer said: "My kids love playing with these! Both my 8 and 4 year old love building things. They have the most creative imaginations I have ever seen in children. Having these snowflake connect toys has given them the chance to create really neat 3D creations that aren't flat looking like Legos, megabloks, or trio blox even though they can make cool creations with them these SnowFlakes connects make their creations more lively and real".
From customer feedback, we found that SnowFlakes Connect from Little Genius Minds is one of the best gifts you can give a 4-7 years old boys and girls. It is backed by a 100% money back guarantee, and Amazon Prime members can receive free 2-day shipping on their orders.
The SnowFlakes Connect from Little Genius Minds is now available on Amazon at a limited time discounted price. The product retails at $29.99, but for a limited time, customers can save 15% by entering code SNOWFL15 at checkout.
About Little Genius Minds
Little Genius Minds is a small business founded in 2015 by Saritha Bhandarkar, a female entrepreneur and business owner from San Diego, California. At Little Genius Minds, our focus is on helping children learn through play. Our mission is to promote early learning through our products that are simple to use and that promote fine motor skills, hand-eye coordination and visual-motor integration. Our toys are designed in California and made in China and they meet the CPSIA standards for safety, they are BPA and phthalate free. We are a small business and strive to make your experience with our products the best possible. Follow us on Facebook at http://facebook.com/littlegeniusminds and Instagram at http://instagram.com/little.genius.minds