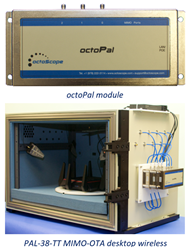 octoPal is a fully featured 802.11ac dual-band device. But, unlike off-the-shelf devices, it is also a precision instrument for specialized testing of wireless performance and behavior.
LITTLETON, MA (PRWEB) May 12, 2016
octoScope's new octoPal™ partner device enables a compact yet fully featured and completely isolated wireless testbed, PAL, for performing important tests including MIMO OTA (multiple input multiple output over the air) throughput, receiver sensitivity, data rate adaptation, band steering and more.
octoPal can be used stand-alone or with octoScope's octoBox® MIMO-OTA wireless testbed.
Combined with the octoBox test chamber and iGen® interference generator, octoPal serves as a key building block of octoScope's new PAL benchtop wireless testbed. PAL's small formfactor, facilitates wireless testing for thousands of engineers who today have limited access to large and expensive wireless test chambers.
Based on the most popular 802.11ac chipset, but with fine controls at the firmware level, octoPal can function as a real device or as a precision test instrument. For example, octoPal can be used to test high performance MIMO-OTA routers, but can also be configured to function as a typical smartphone or as a legacy 802.11a/b/g/n device, operate at a fixed modulation coding scheme (MCS) to test RX sensitivity, perform in-depth protocol monitoring and analysis and many other powerful tests.
For MIMO throughput measurements, octoPal comes preconfigured with traffic endpoints, including iperf2, iperf3, IxChariot and AT4-Agent.
"octoPal is a flexible Wi-Fi emulator that can simplify throughput test configurations and can already be used with AT4 wireless performance tool," said Janie Baños, CTO at AT4 wireless, S.A.U., a DEKRA company.
The octoBox wireless testbed accurately emulates real-world home environment, including interference, path loss, multipath and motion. This video overview of the octoBox testbed for details.
All building blocks of the octoBox testbed, including test modules such as iGen, quadAtten and the new octoPal, are isolated from outside interference with care taken to filter power and data connections.
"Complete isolation and measurement repeatability is necessary to recreate challenging traffic and interference conditions in order to accurately diagnose issues with complex wireless technologies," said Olga Yashkova, Program Manager-Communications Test & Measurement Practice, Measurement & Instrumentation,| Frost & Sullivan. Through automated configuration of traffic, interference, path loss and multipath in the octoBox, network engineers can turn weeks of testing into hours while finding and fixing more issues.
"With the addition of octoPal, the octoBox testbed now offers a benchtop configuration, PAL, for testing MIMO-OTA performance, roaming and coexistence," said Fanny Mlinarsky, President of octoScope.
The octoBox Wireless Testbed
octoBox is being used by wireless operators, device manufacturers and chipset vendors to test Wi-Fi, LTE, ZigBee, Bluetooth and other wireless technologies. With its complete isolation and consistent test environment in labs around the world, the octoBox solution is highly-praised by its diverse users.
About octoScope
octoScope is the leading supplier of wireless test solutions and services to companies building or deploying wireless devices and networks. octoScope is the market leader in automated controlled RF environment wireless testing solutions and is the recipient of a National Science Foundation grant. Our patented technology redefines the accuracy, stability, economics and value of over-the-air wireless testing.
About AT4 wireless
AT4 wireless (a DEKRA company) is a leading network of testing laboratories offering world-class services for carrier device acceptance, performance, conformance, regulatory, field, functional and interoperability testing as well as worldwide compliance and type approval consulting in over 200 countries.
AT4 wireless offers testing, consultancy, development and training services to a wide range of industries as telecommunications, automotive, health, consumer electronics, industrial and security around wireless, cellular technologies; in fact, AT4 wireless testing and certification laboratories have a leading position in the Connected Car and Internet of Things markets.
AT4 wireless offers one-stop testing and compliance services to the telecommunications industry, ensuring an efficient access to the global markets.
AT4 wireless was founded in 1991, has more than 300 employees worldwide and supports customers globally with headquarters in Malaga, Spain, and testing laboratories in the United States, Taiwan, Chile and Japan.
AT4 wireless is a DEKRA company since its acquisition in June, 2015 by the international expert organization.
*Japan´s AT4 wireless testing lab. in cooperation with Toyo Corp.
About DEKRA
DEKRA has been active in the field of safety for 90 years. Founded in 1925 in Berlin as Deutscher Kraftfahrzeug-Überwachungs-Verein e.V., it is today one of the world's leading expert organizations. DEKRA SE is a wholly-owned subsidiary of DEKRA e.V. and manages the Group's operating business. DEKRA generated sales of around €2.7 billion in 2015. The company currently employs around 37,400 people in more than 50 countries on all five continents. With qualified and independent expert services, they work for safety on the road, at work and at home. These services range from vehicle inspection and expert appraisals to claims services, industrial and building inspections, safety consultancy, testing and certification of products and systems, as well as training courses and temporary work. The vision for the company's 100th birthday in 2025 is that DEKRA will be the global partner for a safe world.
For more information, please visit: http://www.at4wireless.com and http://www.dekra.com